Efektivitas Pemberian Herbal Cair pada Air Minum Terhadap Persentase Karkas Ayam Kampung
Keywords:
Liquid herbal, native chicken, percentage of carcass
Abstract
Herbal ingredients are derived from various types of herbs that are processed naturally and are believed to be able to increase the metabolic process of chickens. This study aims to determine the effect of the addition of liquid herbal on the percentage of the carcass of native chickens. The livestock used in this study were 60 superior native chickens from Balitbangtan. Completely randomized design with 4 treatments and 5 replications. The treatments consisted of T0 (control), T1 (liquid herbal 3 ml/liter of water), T2 (vitachickÒ 0.5 gram/liter of water) and T3 (liquid herbal 3 ml + vitachickÒ 0.5 gram/liter of water).  The data were analyzed using one-way ANOVA analysis, if the results showed significant results (P<0.05), then continued with the smallest significant difference (LSD) test to determine the difference in the mean value between treatments. The results showed that the administration of herbal medicine as an additive to chicken feed, the addition of herbal herbs and vitamins had a significant effect (P<0.05) on carcass weight and carcass percentage, but had no significant effect (P>0.05) on the final weight of native chickens. The highest average carcass percentage was at T1 61,15±1,90%, then T2 60,10±2,60%, T3 59,93±4,13%, dan T0 55,59±1,02%.  Giving liquid herbal to P1 was able to increase the carcass percentage which was better than other treatments.
References
Agustina, L. (2006). Penggunaan ramuan herbal sebagai feed additive untuk meningkatkan performans Broiler. Prosiding Lokakarya Nasional Inovasi Teknologi Dalam Mendukung Usaha Ternak Unggas Berdaya Saing. Bogor: Pusat Penelitian dan Pengembangan Peternakan.
Alipin, K., R. Safitri, & R. Kartasudjana. (2016). Suplementasi probiotik dan temulawak pada ayam pedaging terhadap populasi Salmonella sp dan kolesterol darah. Jurnal Veteriner, 17(4), 582–586.
Apritar. (2012). Optimalisasi Penggunaan Kombinasi dan Interval Pemeberian Ramuan Herbal Cair Terhadap Presentase Karkas dan Lemak Abdominal Broiler. Skripsi. Universitas Hasanuddin, Makassar.
Belawa, Y. (2004). Pengaruh suplementasi zat probiotik dalam ransum yang mengandung tingkat serat berbeda terhadap penampilan itik bali pada umur 10 minggu. Seminar Nasional. Bali: Balai Pengkajian Teknologi Peternakan.
Bundy, C. D. (1974). Livestock and Poultry Production (4th ed.). Englewood Cliff, New Jersey: Prentice Hall Inc.
Zainuddin D., & Wikradihardja, E. (2002). Racikan ramuan tanaman obat dalam bentuk larutan jamu fermentasi dapat mempertahankan dan meningkatkan kesehatan serta produktivitas ayam buras. Prosiding Seminar Nasional XIX Tanaman Obat Indonesia. Bogor: OKJANAS Tumbuhan Obat Indonesia dengan Puslit Perkebunan.
Donald D. Bell, & WeaverJr., W. D. (2002). Commercial Chicken Meat and Egg Production (5th ed.). Switzerland: Springer Science-Business media, LLC.
Hartati, S., Widiyono, I., Raharjo, S., Purnamaningsih, H., Alfarisa, Nururrozi1, & Fitriana, I. (2021). Pengaruh Ekstrak Kunyit (Curcuma domestica) dan Meniran (Phyllanthus niruri) Terhadap Profil Darah Ayam. Jurnal Ilmu Peternakan Dan Veteriner Tropis (Journal of Tropical Animal and Veterinary Science), 11(1), 6–11.
SNI. (2009). Mutu Karkas dan Daging Ayam. Badan Standardisasi Nasional.
Kiramang, K., Hidayat, M. N., Anas, A., Thaha, A. H., Hafsan, & Mappanganro, R. (2019). Effectivity of liquid herbal and supplemented frequency on the body weight percentage of the carcass and abdominal fat of broilers. IOP Conference Series: Earth and Environmental Science, 247(1). https://doi.org/10.1088/1755-1315/247/1/012066
Mazi K., S. N. (2013). Tingkat konsumsi, konversi dan income over feed cost pada pakan ayam kampung dengan penambahan enzim papain. Jurnal Fakultas Pertanian, Universitas Tribhuana Tunggadewi Malang.
Mulyono, S. (2004). Beternak Ayam Buras Berorientasi Agribisnis. Jakarta: Penebar Swadaya.
Murtidjo, B. (2003). Pedoman Beternak Ayam Broiler. Yogyakarta: Kanisius.
Prabewi, N., & Junaidi, S. P. (2015). Pengaruh Pemberian Ramuan Herbal Sebagai Pengganti Vitamin dan Obat-Obatan dari Kimia Terhadap Performan Ternak Ayam Kampung Super. Jurnal Pengembangan Penyuluhan Pertanian, 11(22), 97. https://doi.org/10.36626/JPPP.V11I22.141
Ndamung, J. (2020). Pengaruh pemberian puyer herbal terhadap bobot karkas dan lemak abdominal serta kadar kolesterol darah pada ayam jawa super. Skripsi. Universitas Tribhuana Tungga Dewi, Malang.
Purwanti, S. (2015). Efektivitas pemanfaatan fitobiotik ekstrak air kunyit dan bawang putih sebagai Feed additive untuk meningkatkan kualitas gastrointestinal, kinerja produksi, dan kualitas daging broiler. Disertasi. Universitas Gadjah Mada, Yogyakarta.
Rasyaf, M. (2006). Beternak Ayam Kampung. Jakarta: Penebar Swadaya.
Saenab, A B Bakrie, T. R. dan N. (2006). Bulletin of Animal Husbandry and Fishery, 10(2), 133–143.
Sartika, T., Desmayati, Iskandar, S., Resnawati, H., Setioko, A. R., Sumanto, & Romjali, E. (2013). Ayam KUB-1. Jakarta: IAARD Press.
Soeparno. (2015). Ilmu dan Teknologi Daging. Yogyakarta: Gadjah Mada University Press.
Steel, P. G. D., & Torrie., J. H. (1991). Prinsip dan Prosedur Statistika suatu Pendekatan Geometrik (B. Sumantri., Ed.). Jakarta: PT. Gramedia.
Tahalele, Y., Montong, M., Nangoy, F., & Sarajar, C. (2018). Pengaruh Penambahan Ramuan Herbal Pada Air Minum Terhadap Persentase Karkas, Persentase Lemak Abdomen Dan Persentase Hati Pada Ayam Kampung Super. Zootec, 38(1), 160. https://doi.org/10.35792/zot.38.1.2018.18630
Tze, T. (2002). Terapi Pepaya. Jakarta: PT. Prestasi Pustaka Raya.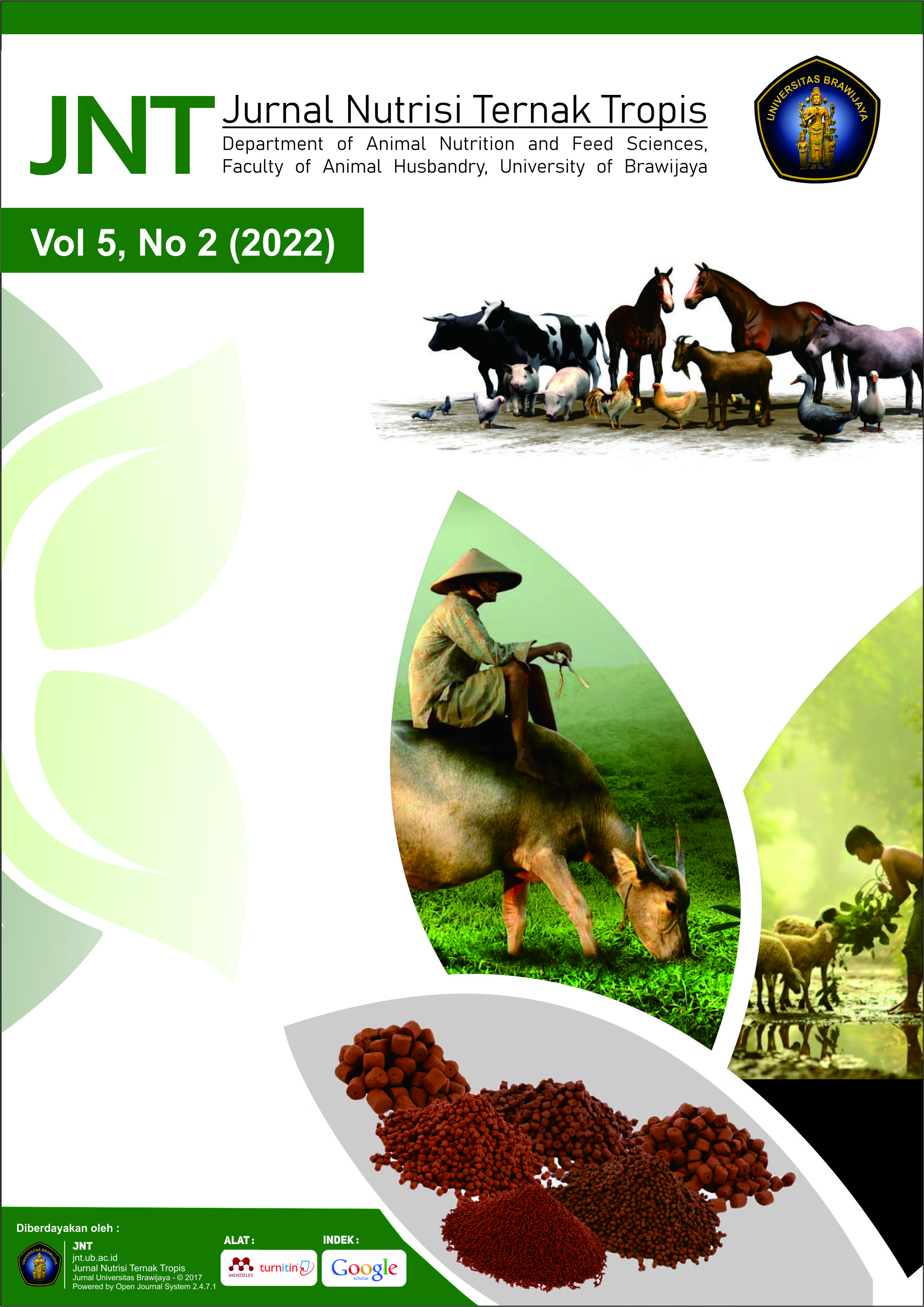 Downloads
License
Copyright (c) 2022 Jurnal Nutrisi Ternak Tropis
This work is licensed under a Creative Commons Attribution 4.0 International License.
Authors who publish with this journal agree to the following terms:
Authors retain copyright and grant the journal right of first publication with the work simultaneously licensed under a Creative Commons Attribution License (http://creativecommons.org/licenses/by/4.0/) that allows others to share the work with an acknowledgement of the work's authorship and initial publication in this journal.
Authors are able to enter into separate, additional contractual arrangements for the non-exclusive distribution of the journal's published version of the work (e.g., post it to an institutional repository or publish it in a book), with an acknowledgement of its initial publication in this journal.
Authors are permitted and encouraged to post their work online (e.g., in institutional repositories or on their website) prior to and during the submission process, as it can lead to productive exchanges, as well as earlier and greater citation of published work (See The Effect of Open Access, http://opcit.eprints.org/oacitation-biblio.html).