Pengaruh Penambahan Ekstrak Kunyit (Curcuma longa Linn) Pada Perkembangan Dan Histopatologi Usus Halus Pada Puyuh Petelur
Keywords:
Antibiotik, ekstrak kunyit, puyuh petelur, usus halus, vili
Abstract
Tujuan penelitian ini untuk mengevaluasi pengaruh penambahan ekstrak kunyit pada panjang dan berat usus halus (duodenum, jejunum, dan ileum), dan perubahan histomorfologi vili (jumlah vili, tinggi vili, kedalaman kripta, luas permukaan vili, dan rasio tinggi:kripta vili). Materi penelitian adalah 220 puyuh betina dengan rata-rata bobot badan 185,78 gram dan koefisien keragaman 6,96%. Metode penelitian adalah eksperimental dengan 5 perlakuan dan 4 ulangan. Perlakuan yang digunakan adalah P0(pakan basal), P0+(pakan basal+0,1% antibiotik), P1(pakan basal+0,1% ekstrak kunyit), P1(pakan basal+0,2% ekstrak kunyit), P1(pakan basal+0,3% ekstrak kunyit). Data penelitian dianalisis ragan berbasis Rancangan Acak Lengkap (RAL) dan dilanjutkan dengan Duncan's New Multiple Range Test (DMRT) jika muncul pengaruh signifikan. Hasil penelitian menunjukan penambahan ekstrak kunyit sampai 0,3% berpengaruh nyata (P<0,05) terhadap berat duodenum dan luas permukaan vili, dan penambahan ekstrak kunyit berpengaruh sangat nyata (P<0,01) terhadap panjang jejunum, panjang ileum, dan jumlah vili. Kesimpulan penelitian yaitu penambahan ekstrak kunyit hingga level 0,3% dapat meningkatkan karakteristik usus halus, sehingga ekstrak kunyit dapat digunakan sebagai pengganti antibiotik pada pakan puyuh petelur
References
Abdel-Rahman, H. A., Fathallah, S. I., Helal, M. A., Nafeaa, A. A., & Zahran, I. S. (2014). Effect of Turmeric (Curcuma Longa), Fenugreek (Trigonella foenum-graecum L.) And/or Bioflavonoid Supplementation to the Broiler Chicks Diet and Drinking Water on the Growth Performance and Intestinal Morphometeric Parameters. Global Veterinaria, 12(5), 627–635. https://doi.org/10.5829/idosi.gv.2014.12.05.83148
Akhsan, F., Basri, B., & Akbar, M. (2020). Panjang Dan Bobot Saluran Cerna Ayam Broiler Yang Mendapat Ransum Mengandung Herbal Kunyit. Musamus Journal of Livestock Science, 3(2), 29–33. http://ejournal.unmus.ac.id/index.php/live/article/view/3242/1768
Amo, M., Saerang, J. L. P., Naojan, M., & Keintjem, J. (2013). Pengaruh Penambahan Tepung Kunyit dalam Ransum terhadap Kualitas Telur Puyuh. Jurnal Zootek, 33(1), 48–57.
Ao, Z., Kocher, A., & Choct, M. (2012). Effects of Dietary Additives and Early Feeding on Performance, Gut Development and Immune Status of Broiler Chickens Challenged with Clostridium perfringens. Asian-Aust. J. Anim. Sci., 25(4), 541–551. https://doi.org/http://dx.doi.org/10.5713/ajas.2011.11378
Awad, W. A., Ghareeb, K., & Böhm, J. (2011). Evaluation of the chicory inulin efficacy on ameliorating the intestinal morphology and modulating the intestinal electrophysiological properties in broiler chickens. Journal of Animal Physiology and Animal Nutrition, 95(1), 65–72. https://doi.org/10.1111/j.1439-0396.2010.00999.x
Badrussalam, A., Isroli, & Yudiarti, T. (2020). Pengaruh Penggunaan Aditif Kunyit terhadap Bobot Relatif Organ Pencernaan Ayam Kampung Super. Jurnal Sain Peternakan Indonesia, 15(3), 273–279. https://doi.org/10.31186/jspi.id.15.3.273-279
Dalal, R., Kosti, D., & Tewatia, B. S. (2018). Effect of turmeric powder on egg quality, gut morphology, ecology and on immune system of laying hen: A review. Journal of Entomology and Zoology Studies, 6(3), 978–982.
Dewi, K., Kadek, N., Jawi, M., & Adriana, D. (2014). Domestica Val ) Metode Maserasi Dan Dekok ( Rattu Norvegicus ) Yang Diberi Vaksin Dpt. 1.
Emma, W. M. S. M., Sjofjan, O., Widodo, E., & Achmanu. (2013). Karakteristik Usus Halus Ayam Pedaging yang Diberikan Asam Jeruk Nipis dalam Pakan (SMALL INTESTINE PROFILES OF BROILERS FED WITH LIME TOTAL ACIDS). Jurnal Veteriner, 14(1), 105–110.
Fard, S. H., Toghyani, M., & Tabeidian, S. A. (2014). Effect of oyster mushroom wastes on performance, immune responses and intestinal morphology of broiler chickens. Int J Recycl Org Waste Agricult, 3(1), 141–146. https://doi.org/10.1007/s40093-014-0076-9
Gul, P., & Bakht, J. (2015). Antimicrobial activity of turmeric extract and its potential use in food industry. J Food Sci Technol, 52(4), 2272–2279. https://doi.org/10.1007/s13197-013-1195-4
Harimurti, S., & Rahayu, E. S. (2009). MORFOLOGI USUS AYAM BROILER YANG DISUPLEMENTASI DENGAN PROBIOTIK STRAIN TUNGGAL DAN CAMPURAN. Agritech, 29(3), 179–183.
Iji, P. A., Hughes, R. J., Choct, M., & Tivey, D. R. (2001). Intestinal Structure and Function of Broiler Chickens on Wheat-Based Diets Supplemented With a Microbial Enzyme. J, Anim. Sci. 2001, 14(1), 54–60.
Jahanian, E., Mahdavi, A. H., & Jahanian, R. (2021). Silymarin improved the growth performance via modulating the microbiota and mucosal immunity in Escherichia coli-challenged broiler chicks. Livestock Science, 249(1), 1–9. https://doi.org/10.1016/j.livsci.2021.104529
Lisnahan, C. V., Wihandoyo, W., & Harimurti, S. (2019). Morfologi usus ayam kampung umur 20 minggu yang disuplementasi dl-metionin dan l-lisin HCl dalam pakan. Journal of Tropical Animal Science and Technology, 210(1), 14–21.
Lu, Z., Thanabalan, A., Leung, H., Kakhki, R. A. M., Patterson, R., & Kiarie, E. G. (2019). The effects of feeding yeast bioactives to broiler breeders and/or their offspring on growth performance, gut development, and immune function in broiler chickens challenged with Eimeria. Poultry Science, 98(12), 6411–6421. https://doi.org/10.3382/PS/PEZ479
Lukito, G. A., Suwarastuti, A., & Hintono, A. (2012). PENGARUH BERBAGAI METODE PENGASINAN TERHADAP KADAR NaCl, KEKENYALAN DAN TINGKAT KESUKAAN KONSUMEN PADA TELUR PUYUH ASIN. Animal Agriculture Journal, 1(1), 829–838. http://ejournal-s1.undip.ac.id/index.php/aaj
Maknun, L., Kismiati, S., & Mangisah, I. (2015). Performans produksi burung puyuh (Coturnix coturnix japonica) dengan perlakuan tepung limbah penetasan telur puyuh. Jurnal Ilmu-Ilmu Peternakan, 25(3), 53–58. https://doi.org/10.21776/ub.jiip.2015.025.03.07
Maty, H. N., & Hassan, A. A. (2020). Effect of supplementation of encapsulated organic acid and essential oil Gallant +® on some physiological parameters of Japanese quails ‫تأثر‬ ‫اإلضاÙات‬ ‫الغذائية‬ ‫للحمض‬ ‫العضوي‬ ‫والزيت‬ ‫األساسي‬ ‫المغلÙ‬. Iraqi Journal of Veterinary Sciences, 34(1), 181–188. http://creativecommons.org/licenses/by/4.0/
Mustafa, M. M., & Karadas, F. (2021). ADDING DIFFERENT LEVELS OF TURMERIC POWDER AND CURCUMIN IN THE DIET ON BROILER PERFORMANCE, CARCASS TRAITS, IMMUNITY AND GUT MORPHOLOGY OF BROILER CHICKEN UNDER NORMAL AND HEAT STRESS CONDITION. Iraqi Journal of Agricultural Sciences, 52(2), 512–526. https://doi.org/10.36103/ijas.v52i2.1315
Natsir, M. H., Widodo, E., & Muharlien. (2016). PENGGUNAAN KOMBINASI KUNYIT (Curcuma domestica) DAN JAHE (Zingiber officinale) BENTUK ENKAPSULASI DAN TANPA ENKAPSULASI TERHADAP KARAKTERISTIK USUS DAN MIKROFLORA USUS AYAM PEDAGING. Buletin Peternakan, 40(1), 1–10. https://doi.org/10.21059/buletinpeternak.v40i1.8890
Prakatur, I., Miskulin, M., Pavic, M., Marjanovic, K., Blazicevic, V., Miskulin, I., & Domacinovic, M. (2019). Intestinal Morphology in Broiler Chickens Supplemented with Propolis and Bee Pollen. Animals, 9(301), 1–12. https://doi.org/10.3390/ani9060301
Rahmani, M., Golian, A., Kermanshahi, H., & Bassami, M. R. (2018). Effects of curcumin or nanocurcumin on blood biochemical parameters , intestinal morphology and microbial population of broiler chickens reared under normal and cold stress conditions. Journal of Applied Aimal Research, 46(1), 200–209. https://doi.org/10.1080/09712119.2017.1284077
Rajput, N., Muhammah, N., Yan, R., Zhong, X., & Wang, T. (2012). Effect of Dietary Supplementation of Curcumin on Growth Performance, Intestinal Morphology and Nutrients Utilization of Broiler Chicks. The Journal of Poultry Science, 1(1), 1–30. https://doi.org/10.2141/jpsa.0120065
Rini, C. S., Rohmah, J., & Widyaningrum, L. Y. (2018). Efektivitas Kunyit (Curcuma longa Linn) terhadap Esherichia coli dan Bacillus subtilis. Medicra (Journal of Medical Laboratory Science/Technology), 1(1), 1–6. https://doi.org/10.21070/medicra.v1i1.1546
Rohma, L. N., Sjofjan, O., & Natsir, M. H. (2019). Effect of Curcuma zedoaria and Zingiber officinale var. officinale as Feed Additive on Intestinal Villus Characteristics of Broiler. International Research Journal of Advanced Engineering and Science, 4(1), 275–278.
Sadeghi, G. H., Karimi, A., Jahromi, S. H. P., Azizi, T., & Daneshmand, A. (2012). Effects of Cinnamon, Thyme and Turmeric Infusions on the Performance and Immune Response in of 1-to 21-Day-Old Male Broilers. Brazilian Journal of Poultry Science2, 14(1), 15–20.
Sahoo, N., Mishra, S. K., Swain, R. K., Acharya, A. P., Pattnaik, S., Sethy, K., & Sahoo, L. (2019). Effect of turmeric and ginger supplementation on immunity, antioxidant, liver enzyme activity, gut bacterial load and histopathology of broilers. Indian Journal of Animal Sciences, 7(89), 774–449. https://www.researchgate.net/publication/335527510
Sahu, R., & Saxena, J. (2013). Screening of total phenolic and flavonoid content in conventional and non conventional species of curcuma. International Journal of Pharmaceutical Sciences Review and Research, 2(1), 176–179.
Sjofjan, O., Adli, D. N., Natsir, M. H., & Kusumaningtyaswati, A. (2020). Pengaruh kombinasi tepung kunyit (Curcuma domestica Val.) dan probiotik terhadap penampilan usus ayam pedaging. Jurnal Nutrisi Ternak Tropis Dan Ilmu Pakan, 2(1), 19–24. https://doi.org/10.24198/jnttip.v2i1.26587
Syamsuryadi, B., & Khaeruddin. (2018). MORFOMETRIK USUS HALUS PUYUH PEDAGING DENGAN BERAT BADAN AWAL DAN WAKTU PEMUASAAN YANG BERBEDA SETELAH MENETAS. Jurnal Agrominansia, 3(1), 41–48.
Tuzun, A. E., Olgun, O., Yildiz, A. O., & Senturk, E. T. (2020). Effect of Different Dietary Inclusion Levels of Sunflower Meal and Multi-Enzyme Supplementation on Performance, Meat Yield, Ileum Histomorphology, and Pancreatic Enzyme Activities in Growing Quails Ahmet. Animals, 10(680), 1–14. https://doi.org/doi:10.3390/ani10040680
Ulfa, R., Maddu, A., Salahuddin Darusman, H., & Santoso, K. (2020). Gambaran Leukosit Setelah Pemberian Nanoenkapsulasi Andaliman (Zanthoxylum acanthopodium DC.) pada Burung Puyuh Pascainduksi Imunosupresan Deksametason (LEUCOCYTES PROFILE AFTER SUPPLEMENTATION OF NANOENCAPSULATION ZANTHOXYLUM ACANTHOPODIUM IN QUAILS POST. Jurnal Veteriner, 21(2), 309–318. https://doi.org/10.19087/jveteriner.2020.21.2.309
Utama, H., Kamil, K. A., & Latipudin, D. (2014). Sekret Mucus Sel Goblet dan Ukuran Usus Halus SEKRET MUCUS SEL GOBLET ILEUM DAN UKURAN USUS HALUS PUYUH (Coturnix coturnix japonica) YANG DIBERI BAWANG PUTIH (Allium sativum). Academia, 1(1), 1–6.
Wahyuningtyas, S. E. P., Permana, I. D. G. M., & Wiadnyani, A. A. I. S. (2017). Pengaruh Jenis Pelarut Terhadap Kandungan Senyawa Kurkumin Dan Aktrivitas Antioksidan Ekstrak Kunyit (Curcuma domestica Val.). Jurnal ITEPA, 6(2), 61–70. https://ojs.unud.ac.id/index.php/itepa/article/view/36950/22387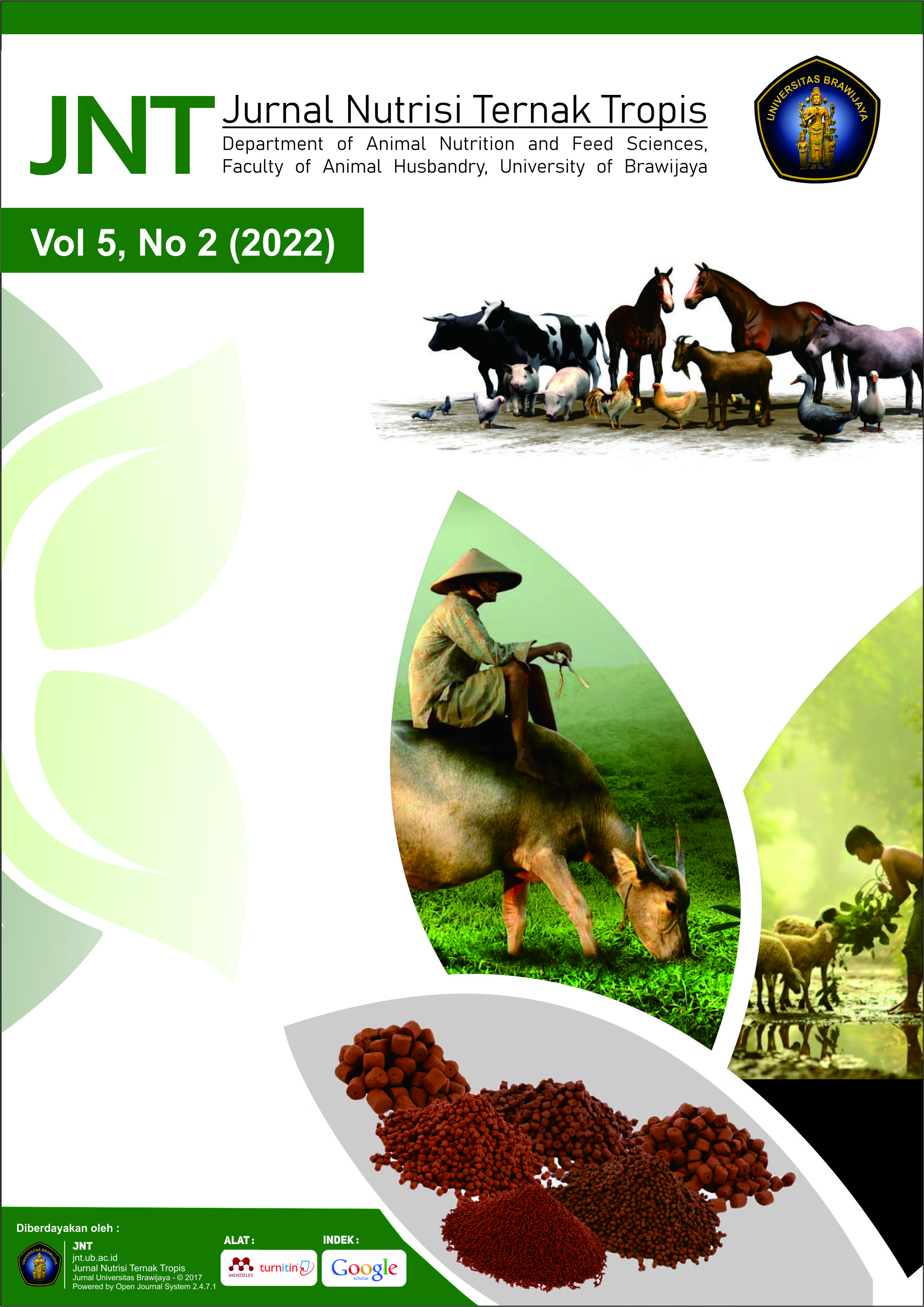 Downloads
License
Copyright (c) 2022 Jurnal Nutrisi Ternak Tropis
This work is licensed under a Creative Commons Attribution 4.0 International License.
Authors who publish with this journal agree to the following terms:
Authors retain copyright and grant the journal right of first publication with the work simultaneously licensed under a Creative Commons Attribution License (http://creativecommons.org/licenses/by/4.0/) that allows others to share the work with an acknowledgement of the work's authorship and initial publication in this journal.
Authors are able to enter into separate, additional contractual arrangements for the non-exclusive distribution of the journal's published version of the work (e.g., post it to an institutional repository or publish it in a book), with an acknowledgement of its initial publication in this journal.
Authors are permitted and encouraged to post their work online (e.g., in institutional repositories or on their website) prior to and during the submission process, as it can lead to productive exchanges, as well as earlier and greater citation of published work (See The Effect of Open Access, http://opcit.eprints.org/oacitation-biblio.html).