Pengaruh penambahan ekstrak daun jati (tectona grandis linn. F) dalam pakan terhadap performa ayam petelur
Abstract
Tujuan dari penelitian ini adalah untuk mengetahui pengaruh penambahan fitobiotik ekstrak daun jati (Tectona grandis Linn. f) sebagai alternatif pengganti antibiotic growth promotor dalam pakan terhadap performa ayam petelur. Materi yang digunakan adalah ayam petelur umur 30 minggu strain  Isa Brown produksi PT. Charoen Pokphand sebanyak 240 ekor dengan rataan eggmas 53,13±3,26 dibedakan dalam 6 perlakuan dan 4 ulangan setiap ulangan terdapat 10 ekor ayam. Metode yang digunakan adalah penelitian eksperimental. Perlakuan yang dicobakan terdiri atas pakan basal tanpa ekstrak daun jati sebagai kontrol negatif (R0), pakan basal penambahan antibiotik virginamycin 0,015% sebagai kontrol positif (R1), pakan basal penambahan ekstrak daun jati 0,4 (R2), 0,8 (R3), 1,2 (R4) dan 1,6% (R5). Variabel yang diamati adalah konsumsi pakan harian (gram/ekor/hari), hen day production (HDP) (%), berat telur (gram/butir), masa telur (gram/ekor/hari), dan feed convertion ratio (FCR). Data dianalisis menggunakan analisis variansi (ANOVA) dari Rancangan Acak Lengkap (RAL) dan apabila terdapat perbedaan di lanjutkan dengan Uji Jarak Berganda Duncan's. Hasil penelitian menunjukkan bahwa penambahan ekstrak daun jati memberikan pengaruh yang sangat nyata (P<0,01) terhadap konsumsi pakan harian, HDP, masa telur dan FCR dan memberikan pengaruh yang nyata (P<0,05) terhadap berat telur. Kesimpulan dalam penelitian ini adalah menambahkan ekstrak daun jati pada level 0,8 % dalam pakan untuk memperoleh performa ayam petelur terbaik.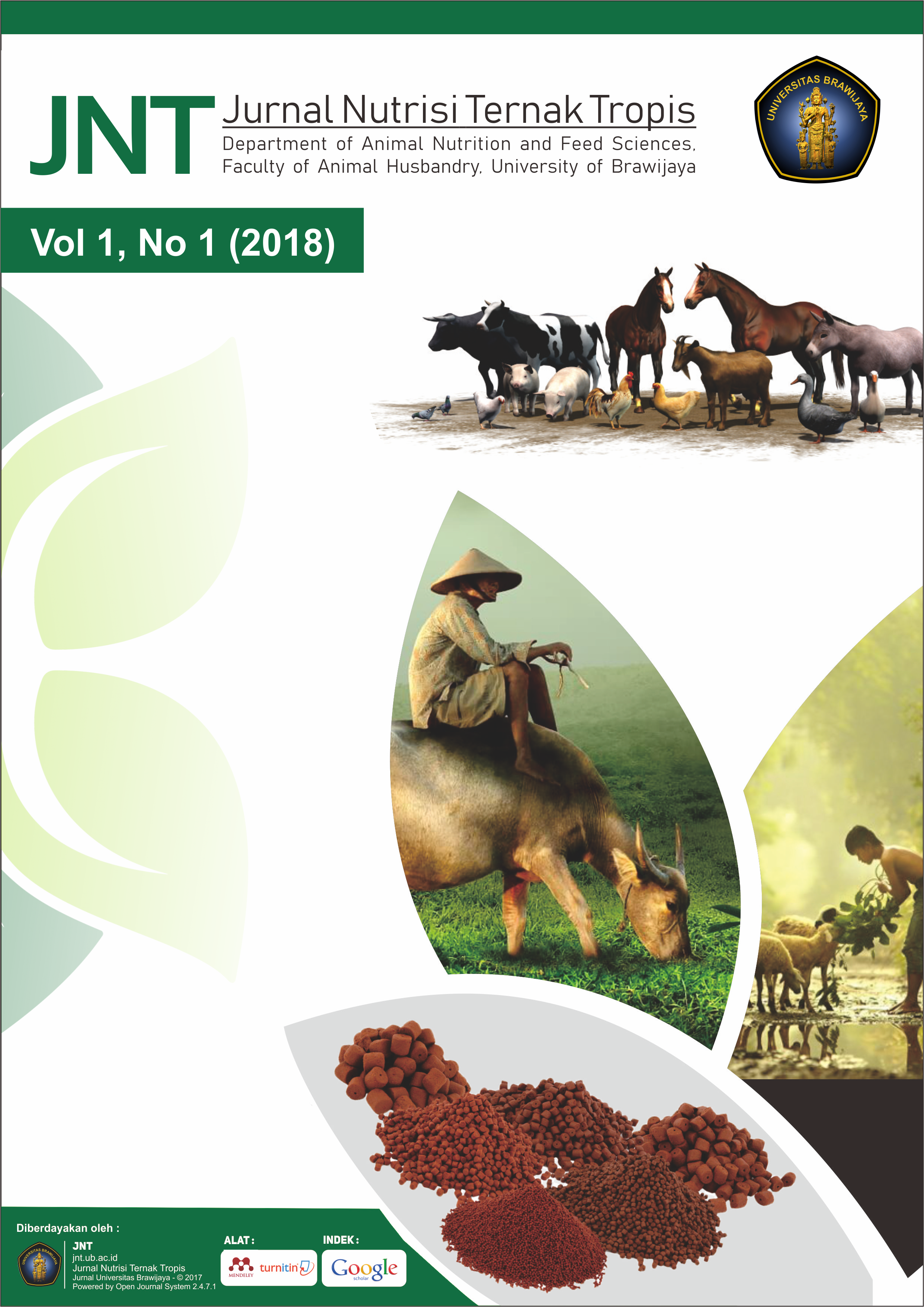 Downloads
License
Authors who publish with this journal agree to the following terms:
Authors retain copyright and grant the journal right of first publication with the work simultaneously licensed under a Creative Commons Attribution License (http://creativecommons.org/licenses/by/4.0/) that allows others to share the work with an acknowledgement of the work's authorship and initial publication in this journal.
Authors are able to enter into separate, additional contractual arrangements for the non-exclusive distribution of the journal's published version of the work (e.g., post it to an institutional repository or publish it in a book), with an acknowledgement of its initial publication in this journal.
Authors are permitted and encouraged to post their work online (e.g., in institutional repositories or on their website) prior to and during the submission process, as it can lead to productive exchanges, as well as earlier and greater citation of published work (See The Effect of Open Access, http://opcit.eprints.org/oacitation-biblio.html).