Evaluasi Kandungan Nutrien Konsentrat Yang Diberikan Pada Sapi Perah Rakyat Di Kabupaten Malang
Abstract
Tujuan dari penelitian ini adalah untuk mengetahui nilai kandungan nutrien pakan konsentrat yang diberikan peternak rakyat pada sapi perah rakyat di Kecamatan Gondanglegi, Jabung dan Pujon. Materi yang digunakan dalam penelitian ini adalah seluruh bahan pakan konsentrat yang diberikan peternak rakyat di ketiga kecamatan dan seperangkat alat dan bahan untuk analisa kandungan nutrien. Metode yang digunakan yaitu observasi pada 30 responden dengan  penentuan lokasi didasarkan pada sentra peternakan sapi perah yang berada di Kab. Malang, sedangkan pemilihan responden menggunakan purposive sampling berdasarkan pada peternak yang mempunyai minimal dua sapi perah laktasi dan masuk kedalam tiga kategori yaitu peternak skala kecil (2-8 ekor), peternak skala sedang (8-15 ekor) dan peternak skala besar (>15 ekor). Hasil penelitian menunjukkan adanya perbedaan pada jenis bahan pakan konsentratyang digunakan serta status kandungan nutrien diketiga kecamatan tersebut. Hasil terbaik ditunjukkan pada Kecamatan Gondanglegi ditinjau dari jenis bahan pakan konsentrat yang diberikan dan kandungan nutrien pada konsentrat yang diberikan.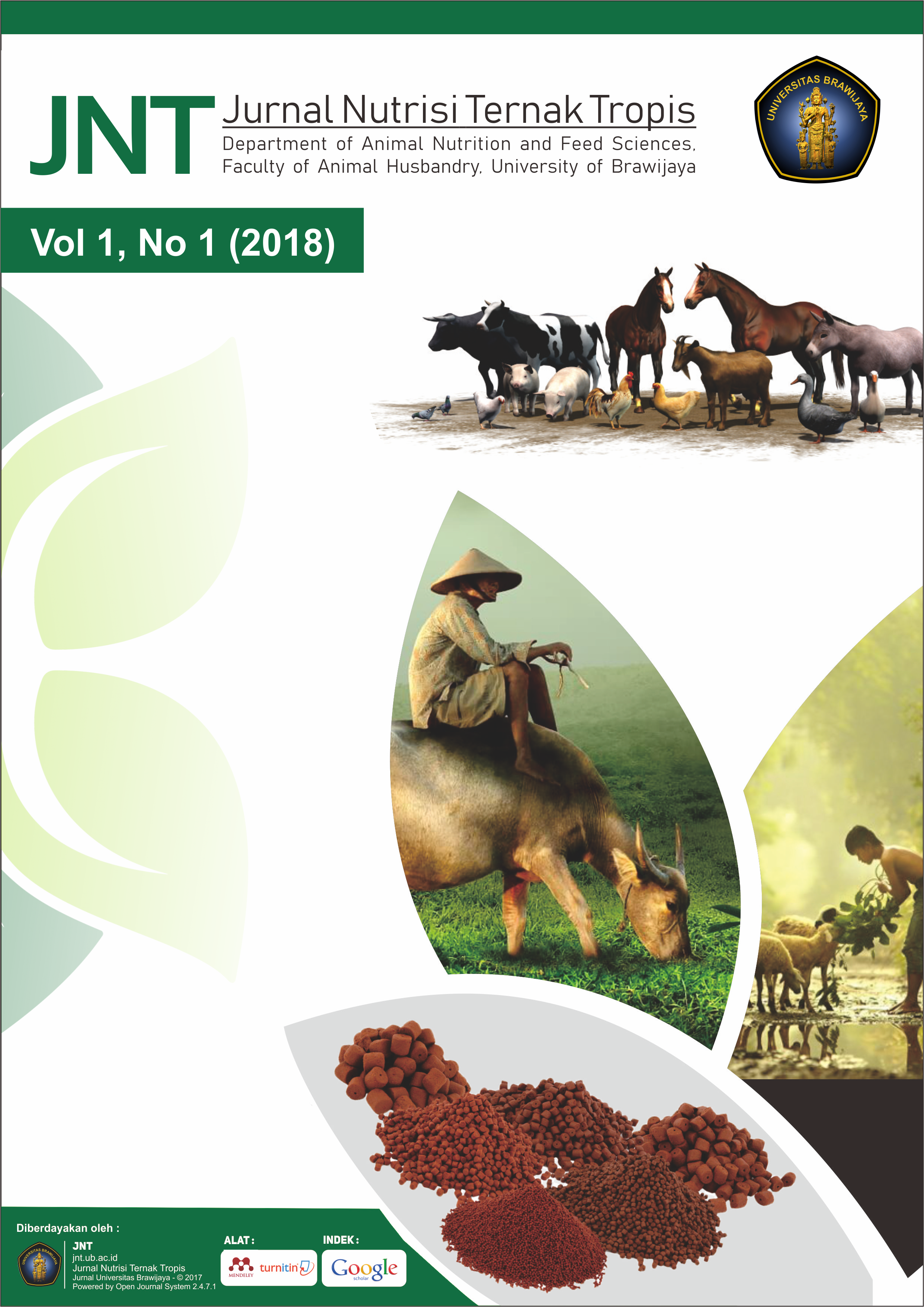 Downloads
License
Authors who publish with this journal agree to the following terms:
Authors retain copyright and grant the journal right of first publication with the work simultaneously licensed under a Creative Commons Attribution License (http://creativecommons.org/licenses/by/4.0/) that allows others to share the work with an acknowledgement of the work's authorship and initial publication in this journal.
Authors are able to enter into separate, additional contractual arrangements for the non-exclusive distribution of the journal's published version of the work (e.g., post it to an institutional repository or publish it in a book), with an acknowledgement of its initial publication in this journal.
Authors are permitted and encouraged to post their work online (e.g., in institutional repositories or on their website) prior to and during the submission process, as it can lead to productive exchanges, as well as earlier and greater citation of published work (See The Effect of Open Access, http://opcit.eprints.org/oacitation-biblio.html).