Pengaruh Perbedaan Molases Sebagai Penyusun Urea Molases Blok (UMB) Terhadap Kualitas Fisik Pakan
Abstract
Penelitian ini bertujuan untuk mengetahui kualitas fisik Urea Molases Blok (UMB) dengan perbedaan komposisi pemberian molases yang berbeda. Kualitas fisik yang diamati meliputi warna, tekstur, aroma, dan tumbuhnya miselia/jamur. Metode yang digunakan pada penelitian ini menggunakan metode Rancangan Acak Lengkap (RAL). Sampel yang dianalisis dibedakan menjadi 5 perlakuan dan setiap perlakuan dilakukan pengulangan sebanyak 6 kali. Perlakuan terdiri dari P1 (molases 30%), P2 (molases 32,5%), P3 (molases 35%), P4 (molases 37,5%), dan P5 (molases 40%). Penambahan molases pada UMB sampai dengan 40% menunjukkan hasil yang baik ditinjau dari warna, aroma, miselia, dan tekstur. 
References
Anwar, & Suganda. (2002). Pemanfaatan Limbah Cair Pabrik Gula Tebu Bagi Upaya Meningkatkan Kesuburan Lahan. Proyek Pengkajian Teknologi Pertanian Partisipasif (PAATP). Departemen Pertanian: Badan Penelitian Dan Pengembangan Pertanian.
BPTP Bengkulu. (2015). Urea Molasses Block Pakan Suplemen Ternak Ruminansia. Bengkulu: Balai Pengkajian Teknologi Pertanian.
Utami, B. (2009). Pengolahan Dan Pemanfaatan Limbah Pabrik Gula (Mollases). Jurusan Teknik Kimia. Surakarta: Jurusan Teknik Kimia. Fakultas Teknik. Universitas Muhammadiyah.
Utomo, R. (2012). Evaluasi Pakan Dengan Metode Noninovatif. Yogyakarta: PT Citra Aji Parama.
Widyastuti, Y. (2008). Fermentasi silase dan manfaat probiotik silase bagi ruminansia. Media Peternakan, 31(3), 225–232.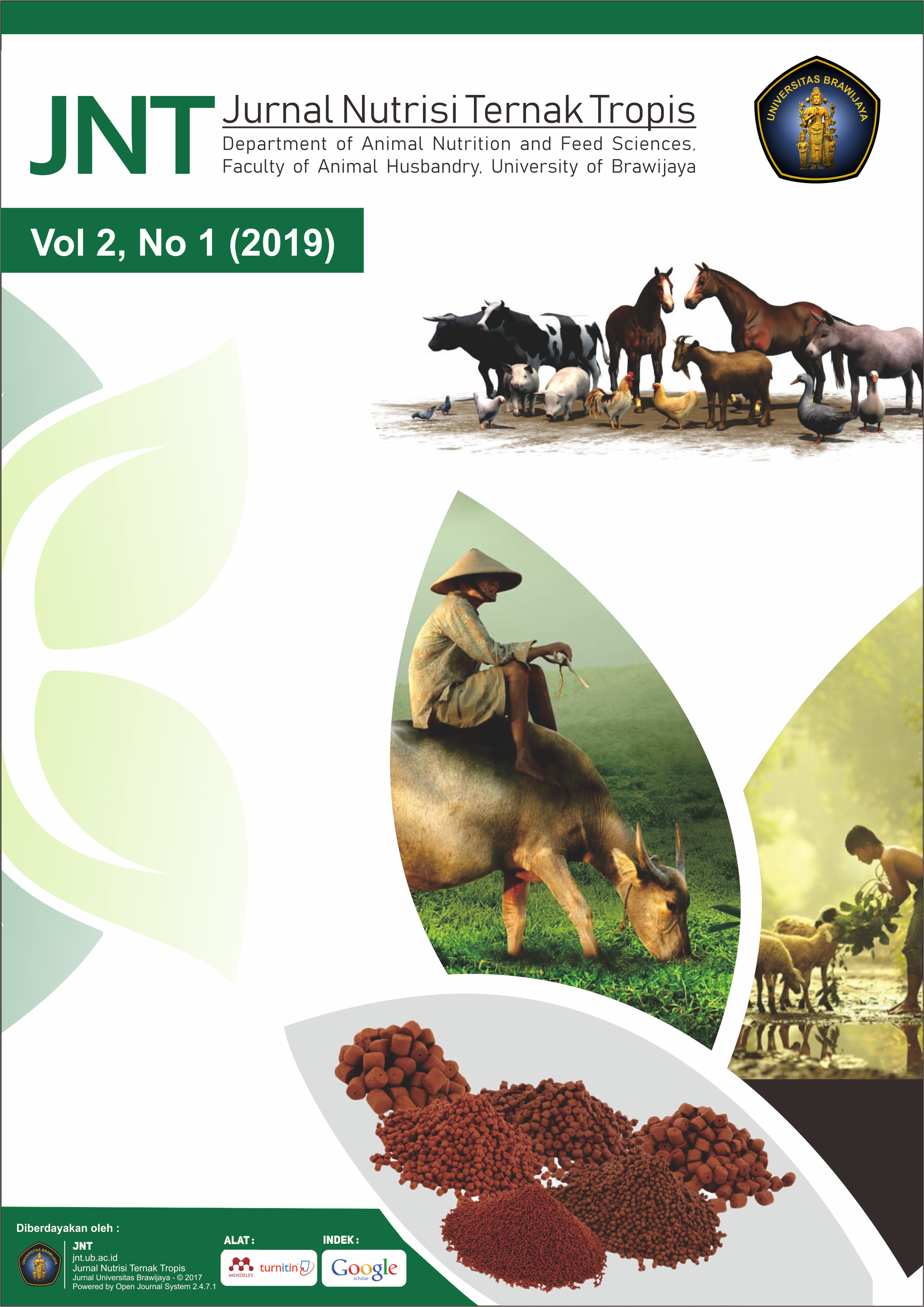 Downloads
License
Authors who publish with this journal agree to the following terms:
Authors retain copyright and grant the journal right of first publication with the work simultaneously licensed under a Creative Commons Attribution License (http://creativecommons.org/licenses/by/4.0/) that allows others to share the work with an acknowledgement of the work's authorship and initial publication in this journal.
Authors are able to enter into separate, additional contractual arrangements for the non-exclusive distribution of the journal's published version of the work (e.g., post it to an institutional repository or publish it in a book), with an acknowledgement of its initial publication in this journal.
Authors are permitted and encouraged to post their work online (e.g., in institutional repositories or on their website) prior to and during the submission process, as it can lead to productive exchanges, as well as earlier and greater citation of published work (See The Effect of Open Access, http://opcit.eprints.org/oacitation-biblio.html).