Sintesis Protein Mikroba Rumen dan Produksi Gas in Vitro Pakan yang Ditambah Urea Molasses Block (UMB) yang Mengandung Ragi Tape Sebagai Sumber Probiotik
Abstract
Tujuan penelitian ini untuk mengetahui proporsi terbaik dari pengaruh penambahan ragi tape dalam UMB sebagai sumber probiotik terhadap sintesis protein mikroba rumen dan produksi gas secara in vitro. Materi pada penelitian ini adalah bahan penyusun UMB yang terdiri dari molasses, semen, pollard, urea, mineral mix, garam, ragi tape. Metode pengukuran produksi gas secara in vitro menggunakan cairan rumen yang diambil dari sapi PFH berfistula. Sampel rumput gajah diambil dari Laboratorium Lapang Fakultas Peternakan Universitas Brawijaya dan konsentrat dari KUD Pujon. Penelitian ini menggunakan Rancangan Acak Lengkap (RAL) yang terdiri dari empat perlakuan dan tiga ulangan. Data yang diperoleh dianalisis menggunakan Analysis of Variance (ANOVA), apabila hasil uji menunjukkan adanya perbedaan maka dilakukan uji lanjutan menggunakan Uji Jarak Berganda Duncan (UJBD). Hasil analisis ragam menunjukkan bahwa perlakuan penambahan ragi tape pada permbuatan UMB memberikan pengaruh yang sangat nyata (P<0,01) terhadap nilai produksi gas total inkubasi 48 jam dan nilai potensi produksi gas (b), serta tidak berbeda nyata (P>0,05) terhadap nilai laju produksi gas (c) dan sintesis protein mikroba rumen. Perlakuan terbaik ada pada P2 yaitu UMB dengan penambahan ragi tape sebesar 4%. Berdasarkan hasil penelitian ini maka disarankan untuk dilakukan penelitian lebih lanjut secara in vivo untuk mengetahui respon.
References
Anggoro, M. R. (2018). Pengaruh Urea Molasses Block (UMB) yang Mengandung Ragi Tape sebagai Sumber Probiotik terhadap Degradabilitas dan Produksi Gas Pakan Lengkap secara In Vitro. Universitas Brawijaya Malang.
ARC. (1984). The Nutrient Requirement of Ruminant Livestock. In Commonwealth Agricultural Bureaux. England: Sloug.
Blummel, M., Steingas, H., & Becker, K. (n.d.). The relationship between in vitro gas production, in vitro biomass yield and incorporation and it is implication for the prediction of voluntri feed intake of roughages. Journal Nutrition, 77, 911–921.
Dawson, K. A., Newman, K., & Boling, J. (1990). Effects of microbial supplements containing yeast and lactobacilli on roughage-fed ruminal microbial activities. Journal Animal Science, 68, 3392–3398.
Farizal. (2008). Respon pemberian Urea Molases Blok (UMB) dan hay rumput kumpai (Hymenaehne amplexicaulis) terhadap pertambahan bobot badan domba lokal jantan. Jurnal Ilmiah Ilmu-Ilmu Peternakan, 11(1), 24–27.
Firsoni, F., & Ansori, D. (2016). Manfaat urea molasses multinutrien blok (UMMB) yang mengandung tepung daun glirisidia (gliricidia sepium) secara in-vitro. Jurnal Ilmiah Aplikasi Isotop Dan Radiasi, 11(2), 161–170. https://doi.org/10.17146/jair.2015.11.2.2793
Ghebrehiwet, T., Wangdi, P., & Ibrahim, M. N. M. (1994). Feeding rice straw supplemented with urea-molasses lick block to lactating cows in Bhutan. Asian-Australasian Journal of Animal Sciences, 7(3), 421–426. https://doi.org/10.5713/ajas.1994.421
Jayanegara, A., & Sofyan, A. (2008). Penentuan aktivitas biologis tanin beberapa hijauan secara in vitro menggunakan "Hohenheim gas test†dengan polietilen glikol sebagai determinan. Media Peternakan, 31(1), 44–52.
Makkar, H. P. S., Blummel, M., & Becker, K. (1995). Application of An In Vitro Gas Method to Understand The Effect of Natural Plant Product on Availability and Portitioning of Nutrients. Germany: Institute for Animal Production in The Tropic and Subtropic University of Stuttgart.
Mukmin, A., Soetanto, H., Kusmartono, & Mashudi. (2014). Produksi gas in vitro asam amino metionin terproteksi dengan serbuk mimosa sebagai sumber condensed tannin (CT). TERNAK TROPIKA Journal of Tropical Animal Production, 15(2), 36–43.
Murtidjo, B. A. (1990). Sapi Potong. Yogyakarta: Kanisius.
Pathak, A. K. (2008). Various factors affecting microbial protein synthesis in the rumen. Vet. World, 1(6), 186–189.
Sugoro, I., Gobel, I., & Lelananingtyas, N. (2005). Pengaruh probiotik khamir terhadap fermentasi dalam cairan rumen secara in vitro. In Seminar Nasional Teknologi Peternakan dan Veteriner.
Suryadi, S., Afdal, M., & Latief, A. (2009). Pengaruh penggantian rumput dengan pelepah sawit ditinjau dari segi kecernaan dan fermentabilitas secara in vitro gas. Jurnal Ilmiah Ilmu-Ilmu Peternakan, 12(1), 29–34. https://doi.org/10.22437/JIIIP.V0I0.489
Thalib, A., Haryanto, B., Hamid, H., Suherman, D., & Mulyani. (2001). Pengaruh kombinasi defaunator dan probiotik terhadap ekosistem rumen dan performan ternak domba. Jurnal Ilmu Ternak Dan Veteriner, 6(2), 83–89.
Wibawa, A. A. P. P., Trisnadewi, A. A. A. S., & Partama, I. B. G. (1970). Suplementasi ragi dalam ransum yang mengandung ampas tahu terhadap produksi telur ayam lohmann brown. Majalah Ilmiah Peternakan, 17(3), 85–90. https://doi.org/10.24843/MIP.2014.v17.i03.p02
Wina, E. (1999). Pemanfaatan ragi (yeast) sebagai pakan imbuhan untuk meningkatkan produktivitas ternak ruminansia. Wartazoa, 9(2), 1–8.
Winugroho, M., Widiawati, Y., & Andi, D. (2008). Pengaruh Pemberian Feed Aditif Sozo-4 terhadap Pertambahan Bobot Hidup Sapi Brahman Cross. In Seminar Nasional Teknologi Peternakan dan Veteriner.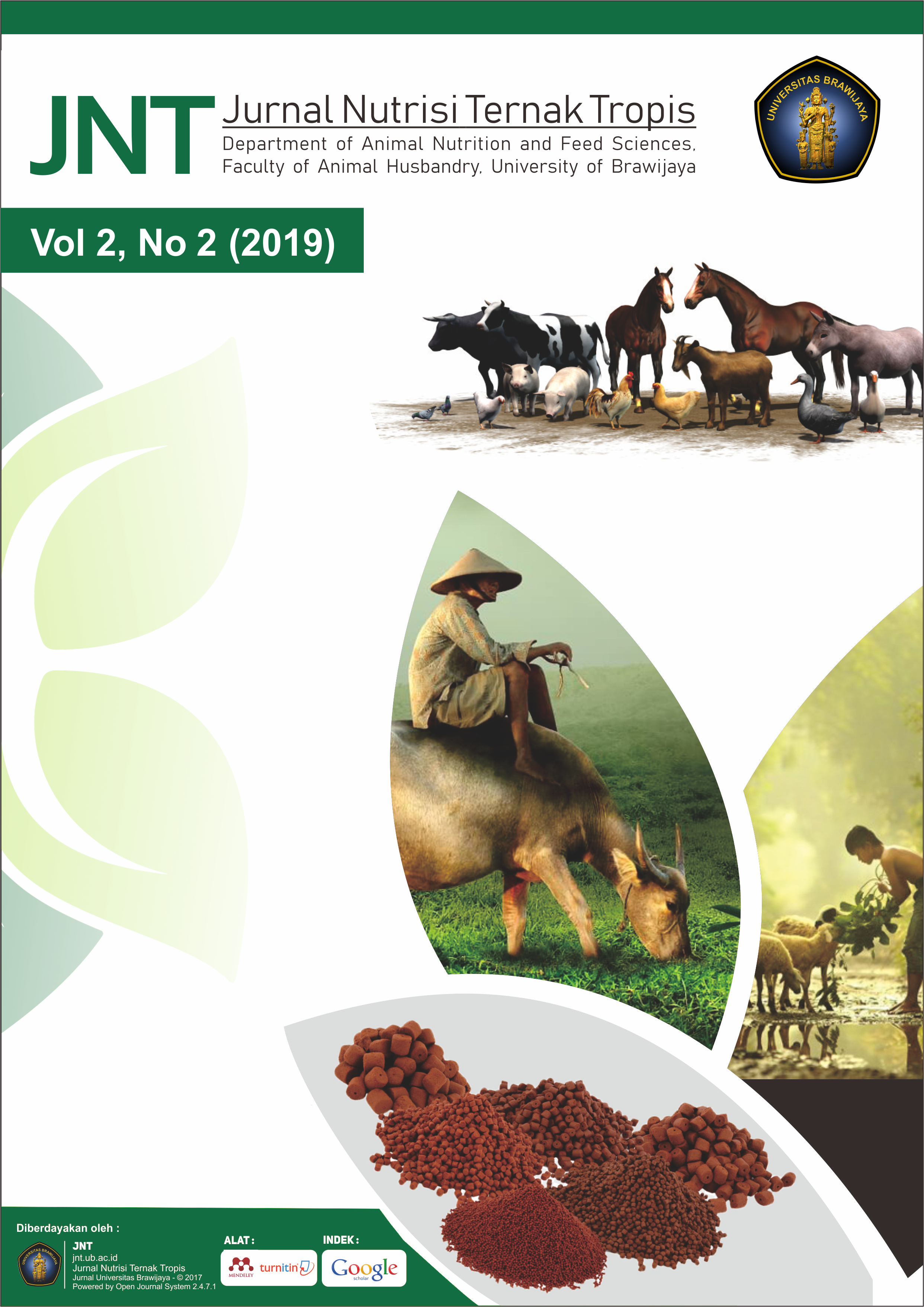 Downloads
License
Authors who publish with this journal agree to the following terms:
Authors retain copyright and grant the journal right of first publication with the work simultaneously licensed under a Creative Commons Attribution License (http://creativecommons.org/licenses/by/4.0/) that allows others to share the work with an acknowledgement of the work's authorship and initial publication in this journal.
Authors are able to enter into separate, additional contractual arrangements for the non-exclusive distribution of the journal's published version of the work (e.g., post it to an institutional repository or publish it in a book), with an acknowledgement of its initial publication in this journal.
Authors are permitted and encouraged to post their work online (e.g., in institutional repositories or on their website) prior to and during the submission process, as it can lead to productive exchanges, as well as earlier and greater citation of published work (See The Effect of Open Access, http://opcit.eprints.org/oacitation-biblio.html).