Evaluasi Pakan Sapi Jantan dalam Kegiatan Pembibitan Sapi Bali (Bos sondaicus)
Abstract
Sapi Bali (Bos sondaicus) merupakan salah satu ternak lokal yang berpotensi untuk dikembangkan sebagai penghasil daging maupun dalam kegiatan pembibitan. Suatu studi lapang dilakukan untuk menilai pemberian pakan terhadap performa sapi Bali (Bos sondaicus) jantan pada pemeliharaan di instalasi pembibitan BPTU – HPT Bali. Pengamatan dilakukan terhadap sembilan ekor sapi Bali jantan berumur 1,6 - 2 tahun dengan rata-rata bobot awal 395,00 + 38,38 kg. Sapi Bali yang dipelihara selama 60 hari mengkonsumsi pakan sebesar 5,98 kg BK/ekor/hari, asupan protein kasar 0,81 kg/ekor/hari serta TDN 3,8 kg/ekor/hari. Hasil evaluasi menunjukkan bahwa performa sapi berada dalam kisaran yang normal dan baik untuk pembibitan sapi Bali.
References
Astiti, N. M. A. G. (2018). Sapi Bali dan Pemasarannya. Denpasar: Warmadewa University Press.
Bandyopadhyay, M., Chakraborty, R., & Raychaudhuri, U. (2007). A process for preparing a natural antioxidant enriched dairy products (sandesh). LWT-Food Sci. Technology, 40, 842–851.
Bindari, Y. R., Shrestha, S., Shrestha, N., & Gaire, T. N. (2010). Effects of nutrition on reproduction- A review. Advances in Applied Science Research, 4(1), 421–429.
Funston, R. (2006). Nutrition and Reproduction Interactions. Proceedings Applied Reproductive Strategies in Beef Cattle October 3 and 4. Rapid City: South Dakota.
Kurnia sari, D. D. (2016). Pengaruh pakan tambahan berupa ampas tahu dan limbah bioetanol berbahan singkong (manihot utilissima) terhadap penampilan sapi bali (bos sondaicus). Buletin Peternakan, 40(2), 107–112. https://doi.org/10.21059/buletinpeternak.v40i2.9191
Nanda, D. D., Purnomoadi, A., & Nuswantara, L. (2014). Penampilan produksi sapi bali yang diberi pakan dengan berbagai level pelepah sawit. Agromedia, 32(2), 54–63.
Sampurna, I., & Suatha, I. (2010). Pertumbuhan alometri dimensi panjang dan lingkar tubuh sapi bali jantan. Jurnal Veteriner, 11(1), 46–51.
Siswanto, M., Patmawati, N. W., Trinayani, N. N., Wandia, I. N., & Puja, I. K. (2013). Penampilan reproduksi sapi bali pada peternakan intensif di instalasi pembibitan pulukan. Veterinary Science and Medicine Journal, 1(1), 11–15.
Tahuk, P., & Dethan, A. (2010). Performance of bali bull in greenlot fattening by farmers when rainy season in Timor Island. Journal of the Indonesian Tropical Animal Agriculture, 35(4), 257–261. https://doi.org/10.14710/jitaa.35.4.257-261
Tonbesi, T. T., Ngadiyono, N., & (Sumadi), S. (2012). The Potency estimation and performance of bali cattle in Timor Tengah Utara Regency, East Nusa Tenggara Province. Buletin Peternakan, 33(1), 30–39. https://doi.org/10.21059/buletinpeternak.v33i1.132
Wiyatna, M. F. (2007). Perbandingan indek perdagingan sapi-sapi Indonesia (Sapi Bali, Madura,PO) dengan Sapi Australian Commercial Cross (ACC). Jurnal Ilmu Ternak Universitas Padjadjaran, 7(1), 22–25. https://doi.org/10.24198/JIT.V7I1.2227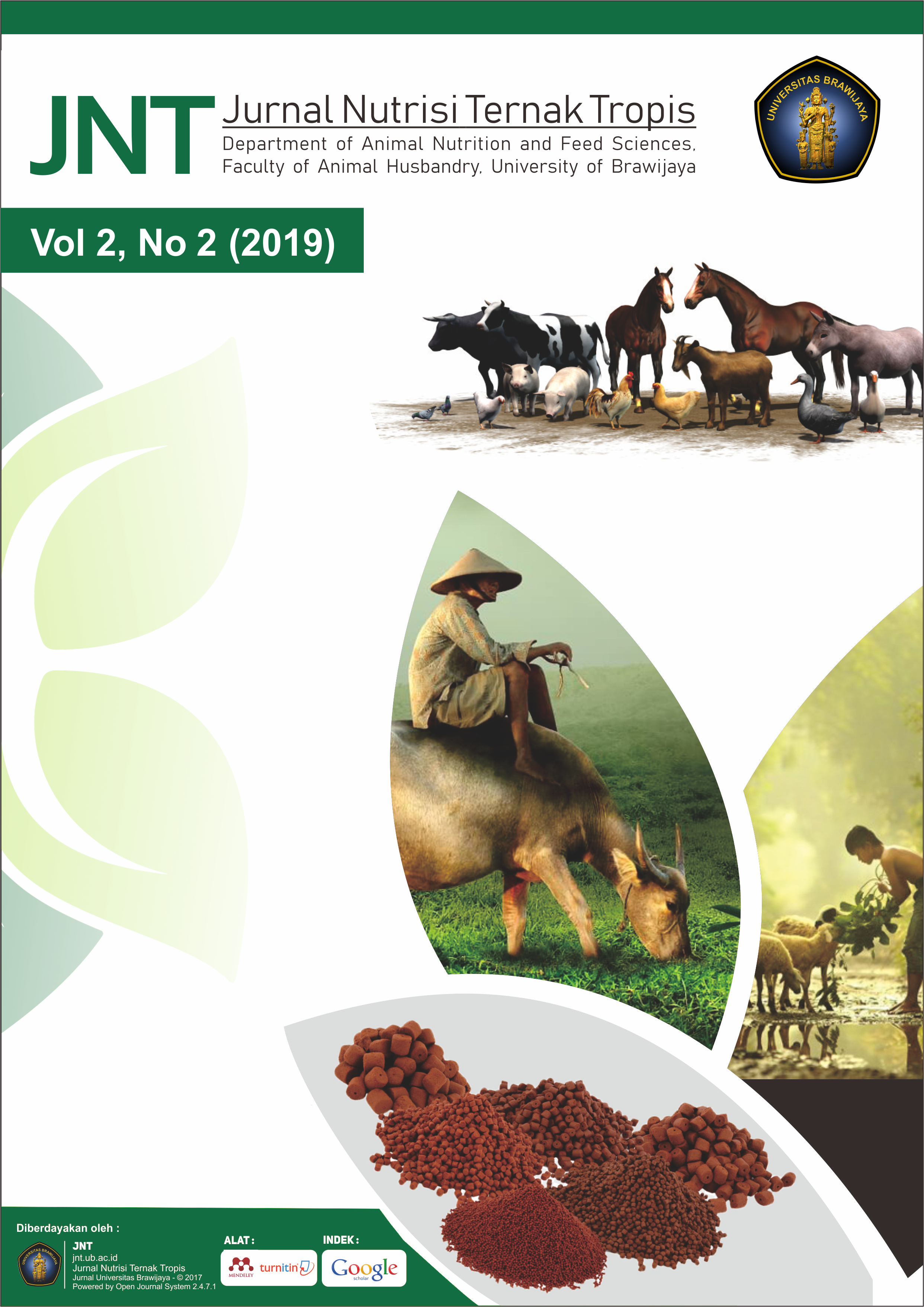 Downloads
License
Authors who publish with this journal agree to the following terms:
Authors retain copyright and grant the journal right of first publication with the work simultaneously licensed under a Creative Commons Attribution License (http://creativecommons.org/licenses/by/4.0/) that allows others to share the work with an acknowledgement of the work's authorship and initial publication in this journal.
Authors are able to enter into separate, additional contractual arrangements for the non-exclusive distribution of the journal's published version of the work (e.g., post it to an institutional repository or publish it in a book), with an acknowledgement of its initial publication in this journal.
Authors are permitted and encouraged to post their work online (e.g., in institutional repositories or on their website) prior to and during the submission process, as it can lead to productive exchanges, as well as earlier and greater citation of published work (See The Effect of Open Access, http://opcit.eprints.org/oacitation-biblio.html).