Identifikasi Pengaruh Maksimal Level Bekatul Terhadap Penampilan Produksi Ayam Petelur
Abstract
Penelitian ini dilaksanakan untuk mengidentifikasi tentang bagaimana pakan yang mengandung bekatul dapat mempengaruhi penampilan produksi ayam petelur. Kandungan serat kasar bekatul sangat tinggi dan bekatul mengandung asam fitat yang merupakan anti nutrisi, sehingga bekatul memiliki batas penggunaan pada level tertentu dalam pakan. Penelitian ini menggunakan 100 ekor ayam petelur betina umur 30 minggu dan bahan pakan perlakuan. Metode yang digunakan adalah percobaan lapang dengan menggunakan empat perlakuan pakan dan masing-masing perlakuan diulang sebanyak 5 kali. Variabel dalam penelitian ini adalah konsumsi pakan, berat telur, hen day production, egg mass, konversi pakan, dan Income Over Feed Cost (IOFC). Metode analisis statistik yang digunakan untuk mengolah data hasil penelitian Rancangan Acak Lengkap (RAL) menggunakan analisis ragam dan uji jarak berganda Duncan. Hasil penelitian menunjukkan bahwa penggunaan bekatul berbagai level dalam pakan tidak memberikan pengaruh nyata (P>0,05) terhadap konsumsi pakan, berat telur, hen day production, egg mass, konversi pakan dan IOFC. Kesimpulan dari penelitian ini adalah bekatul dapat digunakan dengan level tertinggi 30% dalam pakan dan tidak mempengaruhi perubahan performa produksi ayam petelur.
References
Amrullah, I. (2004). Nutrisi Ayam Petelur. Jakarta: Penebar Swadaya.
Herwintono, & Kurniawati, Y. E. (2001). Pengaruh penggunaan tepung jnagkrik dalam ransum terhadap konsumsi pakan, konversi pakan dan income over feed cost pada burung puyuh fase layer. Jurnal Protein, 17, 1013–1019.
Ketaren, P. (2002). Kebutuhan gizi itik petelur dan itik pedaging. Jurnal Wartazoa, 12(2), 37–46.
Kurniawan, H. K. (2001). Pengaruh Tingkat Pemberian Campuran Onggok dan Kotoran Ayam Kering Difermentasi Rhizopus sp dalam pakan terhadap penampilan Produksi Itik Petelur. Universitas Brawijaya.
Marhiyanto, B. (2004). Beternak Bebek Darat Petelur. Surabaya: Gitamedia Press.
NRC. (1994). Nutrient Requirement of Poultry (9th ed.). Washington, D.C: National Academic Press.
Ranto, & Sitanggang, M. (2005). Panduan Lengkap Beternak Itik. Jakarta: Agromedia Pustaka.
Srigando, B. (1992). Produksi Ternak Air. Yogyakarta: Gadjah Mada University Press.
Sutawi. (2007). Kapita Selekta Agribisnis Peternakan. Malang: Universitas Muhammadiyah Malang Press.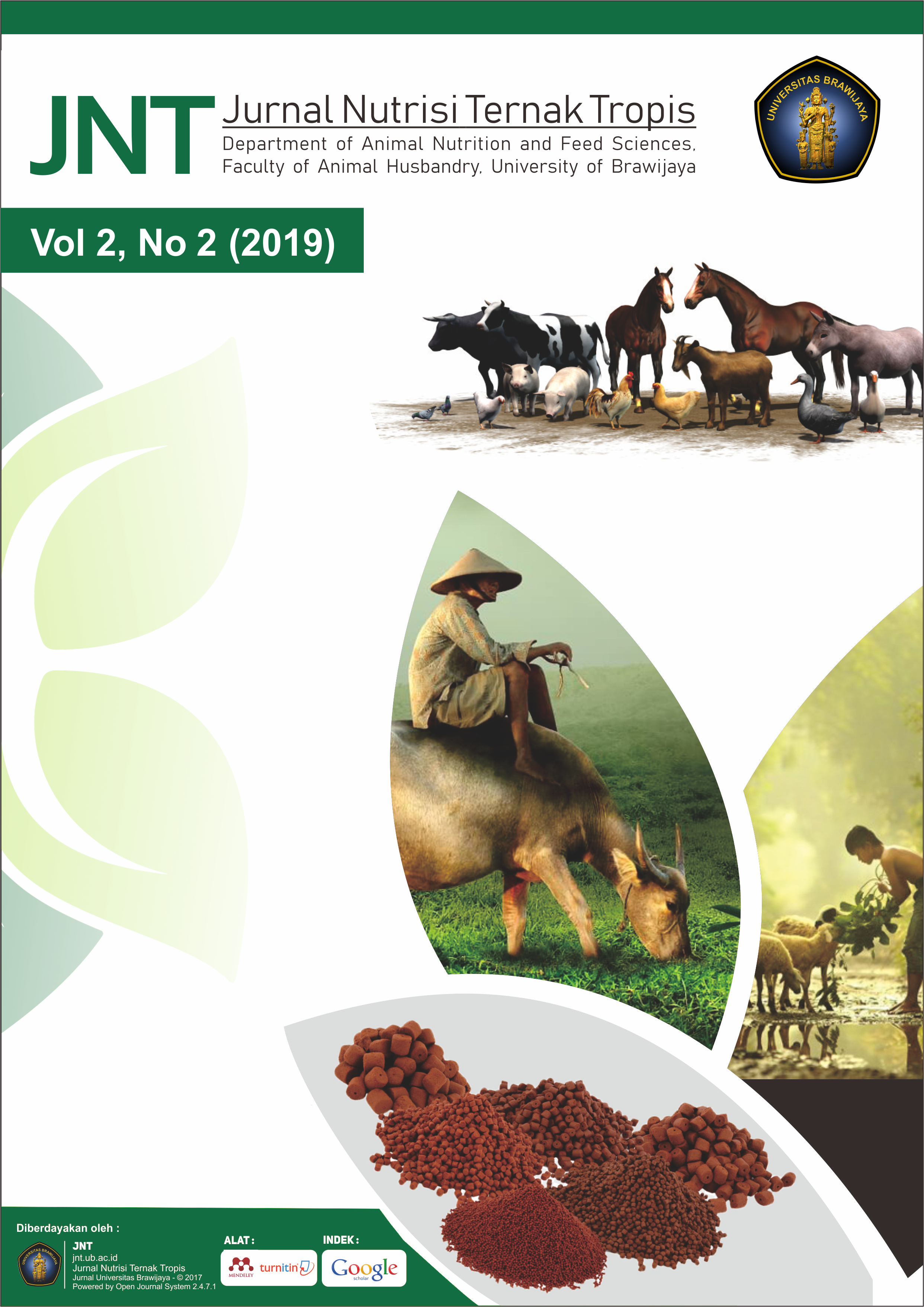 Downloads
License
Authors who publish with this journal agree to the following terms:
Authors retain copyright and grant the journal right of first publication with the work simultaneously licensed under a Creative Commons Attribution License (http://creativecommons.org/licenses/by/4.0/) that allows others to share the work with an acknowledgement of the work's authorship and initial publication in this journal.
Authors are able to enter into separate, additional contractual arrangements for the non-exclusive distribution of the journal's published version of the work (e.g., post it to an institutional repository or publish it in a book), with an acknowledgement of its initial publication in this journal.
Authors are permitted and encouraged to post their work online (e.g., in institutional repositories or on their website) prior to and during the submission process, as it can lead to productive exchanges, as well as earlier and greater citation of published work (See The Effect of Open Access, http://opcit.eprints.org/oacitation-biblio.html).