Pengaruh Jenis Pakan Terhadap Pertumbuhan Bulu dan Performa Love Bird
Keywords:
Love Bird, Nutribird A21, Y, Z, pertumbuhan bulu
Abstract
Penelitian ini bertujuan untuk mengetahui pengaruh jenis pakan terhadap pertumbuhan bulu, pertambahan bobot badan, konsumsi dan koversi pakan pada love bird serta memberi rekomendasi pakan yang terbaik dan efisien untuk digunakan oleh peternak. Rancangan penelitian ini menggunakan metode RAL (Rancangan Acak Lengkap). Perlakuan terdiri dari 3 jenis pakan (Nutribird A21, Y, Z), masing-masing diulang 7x dan setiap ulangan 1 ekor sehingga diperoleh 21 unit percobaan. Penelitian dilakukan selama 4 minggu. Data hasil penelitian diuji ANOVA. Hasil penelitian menunjukkan bahwa secara kualitatif deskriptif ada perbedaan pertumbuhan bulu namun dari variabel bobot badan dan efisiensi pakan tidak ada pengaruh yang berbeda nyata. Kesimpulannya adalah P1 (Nutribird A21) dengan pertumbuhan bulu yang lebat, indah dan mengkilap, dapat disarankan untuk digunakan peternak.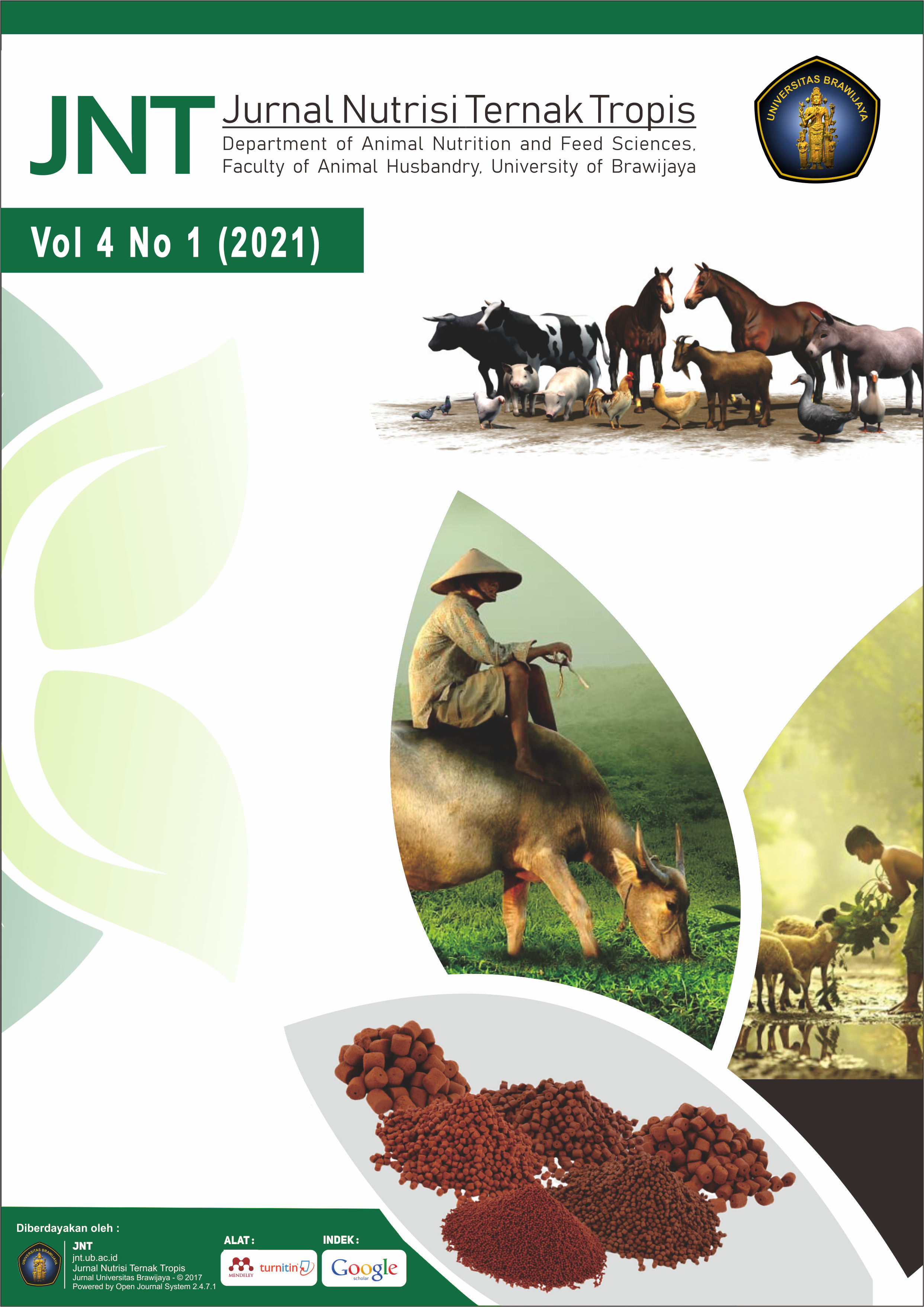 Downloads
License
Authors who publish with this journal agree to the following terms:
Authors retain copyright and grant the journal right of first publication with the work simultaneously licensed under a Creative Commons Attribution License (http://creativecommons.org/licenses/by/4.0/) that allows others to share the work with an acknowledgement of the work's authorship and initial publication in this journal.
Authors are able to enter into separate, additional contractual arrangements for the non-exclusive distribution of the journal's published version of the work (e.g., post it to an institutional repository or publish it in a book), with an acknowledgement of its initial publication in this journal.
Authors are permitted and encouraged to post their work online (e.g., in institutional repositories or on their website) prior to and during the submission process, as it can lead to productive exchanges, as well as earlier and greater citation of published work (See The Effect of Open Access, http://opcit.eprints.org/oacitation-biblio.html).