Evaluasi Kualitas Kimia Kulit Ubi Kayu (Manihot Utilissima) yang Difermentasi Menggunakan Inokulan Aspergillus Oryzae
Keywords:
Aspergillus oryzae, fermentasi, kualitas kimia, kulit ubi kayu
Abstract
Penelitian ini dilakukan dengan tujuan untuk mengevaluasi tentang pengaruh tingkat penggunaan Aspergillus oryzae terhadap kualitas kimiawi fermentasi kulit ubi kayu (Manihot utilissima). Aspergillus oryzae dengan kadar pemakaian yang berbeda yaitu 0%, 1%, 2% dan 3% digunakan untuk fermentasi kulit ubi kayu dengan waktu inkubasi 96 jam. Penelitian ini menggunakan metode percobaan di laboratorium dengan Rancangan Acak Lengkap (RAL) yang terdiri dari 4 perlakuan dan 3 ulangan sehingga total berjumlah 12 unit. Kualitas kimia yang diamati dalam penelitian ini terdiri dari Bahan Kering (BK), Bahan Organik (BO), Serat Kasar (SK), Lemak Kasar (LK), Protein Kasar (PK) dan Bahan Ekstrak Tanpa Nitrogen (BETN). Analisis varian digunakan untuk menganalisis data hasil penelitian lalu dilanjukan dengan uji Uji Jarak Berganda Duncan (UJBD). Hasil penelitian menunjukkan bahwa penggunaan Aspergillus oryzae berpengaruh sangat signifikan terhadap nilai BK dan SK (P<0,05), PK dan BETN (P<0,01) tetapi tidak berpengaruh signifikan terhadap nilai BO dan LK (P>0,05). Kesimpulan dari penelitian ini adalah penggunaan Aspergillus oryzae 3% selama 96 jam untuk memfermentasi kulit ubi kayu merupakan cara terbaik untuk meningkatkan kandungan nutrisi meliputi kadar BK, BO dan BETN serta menurunkan kadar abu, SK dan LK.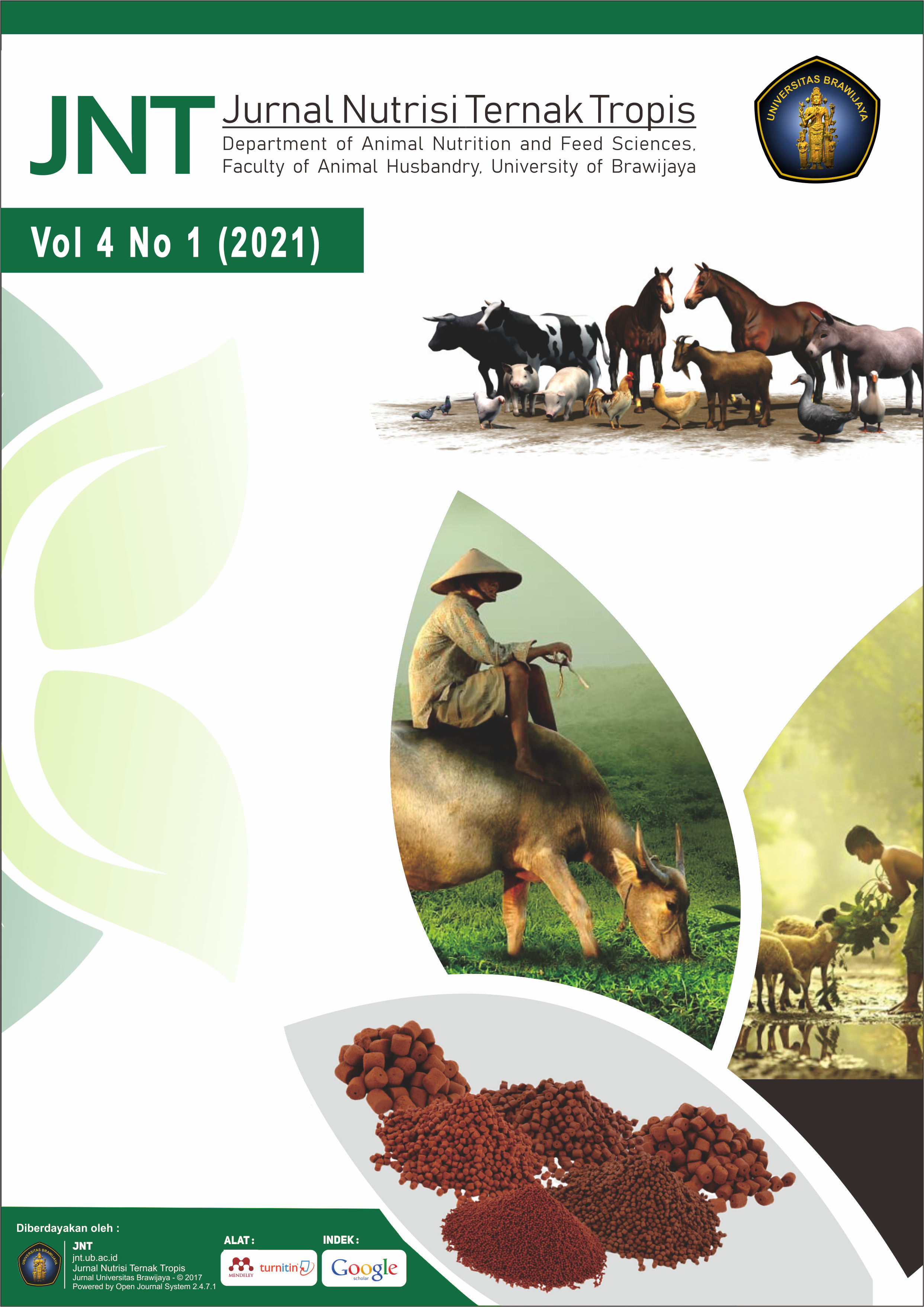 Downloads
License
Authors who publish with this journal agree to the following terms:
Authors retain copyright and grant the journal right of first publication with the work simultaneously licensed under a Creative Commons Attribution License (http://creativecommons.org/licenses/by/4.0/) that allows others to share the work with an acknowledgement of the work's authorship and initial publication in this journal.
Authors are able to enter into separate, additional contractual arrangements for the non-exclusive distribution of the journal's published version of the work (e.g., post it to an institutional repository or publish it in a book), with an acknowledgement of its initial publication in this journal.
Authors are permitted and encouraged to post their work online (e.g., in institutional repositories or on their website) prior to and during the submission process, as it can lead to productive exchanges, as well as earlier and greater citation of published work (See The Effect of Open Access, http://opcit.eprints.org/oacitation-biblio.html).