Variasi Genotip Lokal Tanaman Centro (Centrosema Pubescens) Sebagai Pakan Ternak
Keywords:
Keragaman, jumlah daun, panjang batang, berat hijauan centrosema pubescens
Abstract
Tujuan penelitian ini untuk memberikan informasi keragaman karakter kuantitatif produksi hijauan pakan ternak pada genotip lokal Centro (Centrosema pubescens) sebagai materi seleksi perbaikan genetik tanaman. Materi yang digunakan adalah biji tanaman Centro yang didapat dari Sragen, Kebumen, Bogor, Probolinggo, Malang 1 dan Malang 2. Metode penelitian menggunakan perlakuan biji tanaman Centro yang kemudian ditanam dalam satu petakan. Parameter yang diukur adalah Panjang batang, jumlah daun dan berat hijaun pada umur 80 hari. Analisis data yang digunakan yaitu nilai ragam yang dibandingkan dengan nilai standar devisiasi sehingga dapat menentukan luas dan sempitnya nilai keragaman. Hasil studi menunjukkan keragaman genotip Malang 1, Probolinggo, Sragen, Bogor dan Kebumen termasuk dalam kategori keragaman luas, sedangkan genotip Malang 2 termasuk dalam keragaman sempit pada karakter hijauan. Kesimpulan dari penelitian ini yaitu genotip pada Centrosema pubescens dapat dijadikan materi seleksi untuk pemuliaan hijauan pakan ternak. Pada karakter jumlah daun dan Panjang batang dapat dilakukan seleksi dari biji tanmaan yang didapat di Kebumen, sedangkan pada Panjang batang dari Bogor.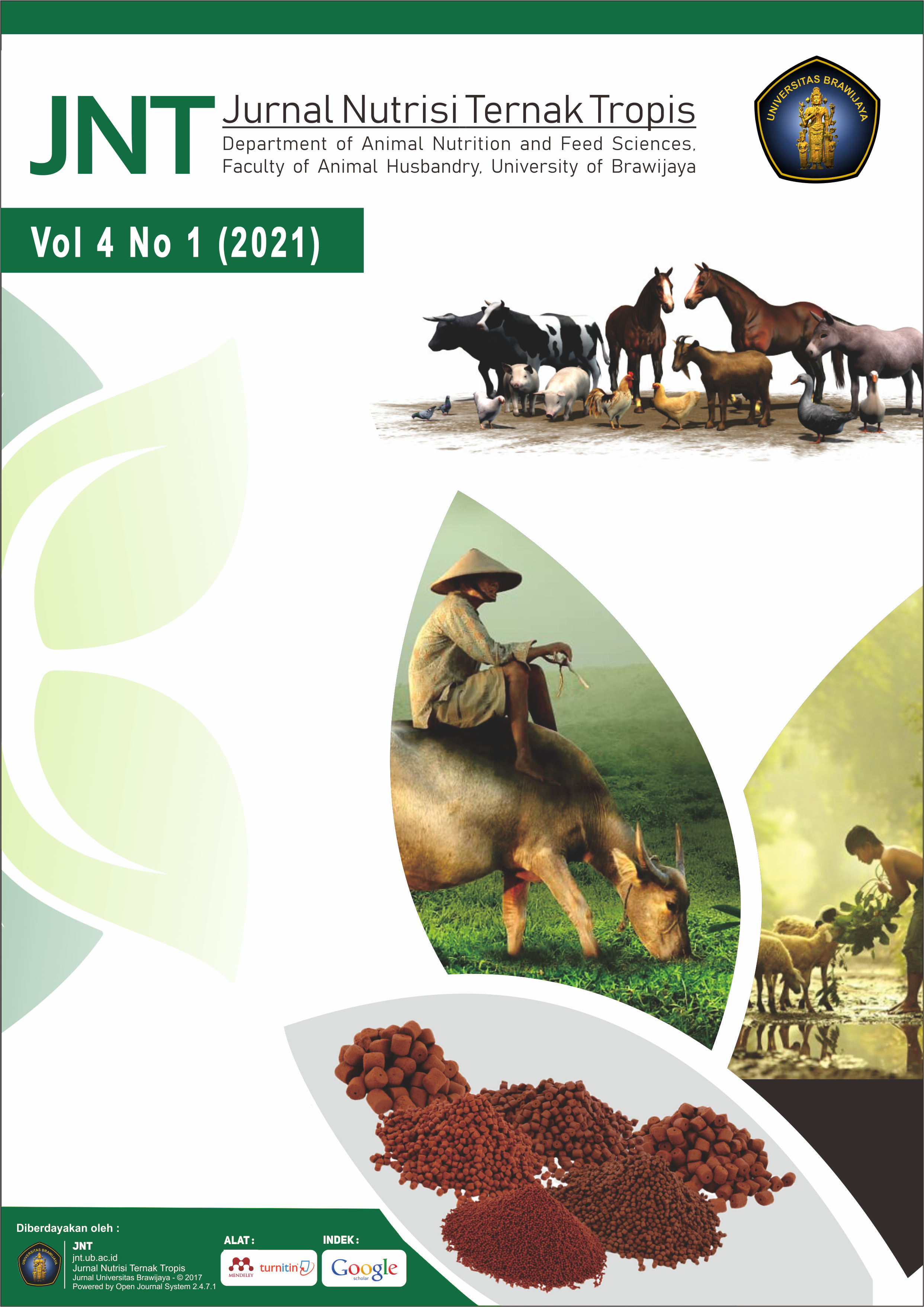 Downloads
License
Authors who publish with this journal agree to the following terms:
Authors retain copyright and grant the journal right of first publication with the work simultaneously licensed under a Creative Commons Attribution License (http://creativecommons.org/licenses/by/4.0/) that allows others to share the work with an acknowledgement of the work's authorship and initial publication in this journal.
Authors are able to enter into separate, additional contractual arrangements for the non-exclusive distribution of the journal's published version of the work (e.g., post it to an institutional repository or publish it in a book), with an acknowledgement of its initial publication in this journal.
Authors are permitted and encouraged to post their work online (e.g., in institutional repositories or on their website) prior to and during the submission process, as it can lead to productive exchanges, as well as earlier and greater citation of published work (See The Effect of Open Access, http://opcit.eprints.org/oacitation-biblio.html).