Ketersediaan Pakan Kambing pada Musim Hujan dan Kering di Lombok Utara, Nusa Tenggara Barat, Indonesia
Keywords:
Kambing, ketersediaan, hijauan, musim hujan, musim panas
Abstract
Dua survei dilakukan selama musim hujan dan kemarau di Pulau Lombok, Indonesia untuk mempelajari aplikasi pemberian pakan dan pengelolaan kambing yang dipelihara dengan sistem produksi skala kecil. Ditemukan bahwa sejumlah besar hijauan diberikan kepada kambing dengan jenis yang berbeda yang digunakan masing-masing selama musim hujan dan kemarau. Rumput lapang adalah pakan yang paling tersedia dan diberikan kepada kambing sebagai pakan campuran dan satu-satunya. Beberapa hasil samping pertanian seperti padi dan jerami jagung, juga diberikan kepada kambing tetapi dalam jumlah yang lebih kecil. Selanjutnya produksi kambing dijelaskan dengan standar produksi yang baik untuk pengelolaan peternak rakyat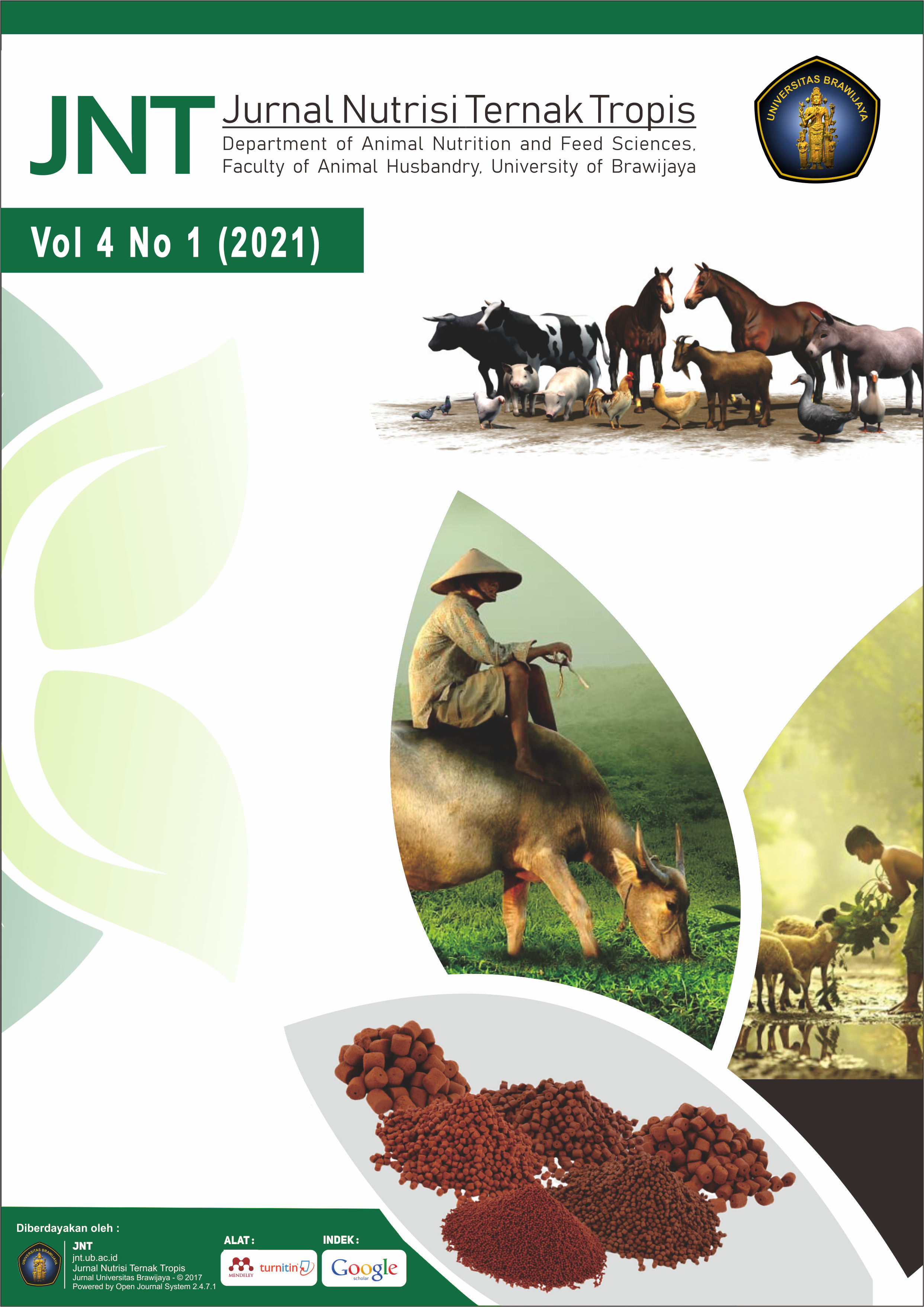 Downloads
License
Authors who publish with this journal agree to the following terms:
Authors retain copyright and grant the journal right of first publication with the work simultaneously licensed under a Creative Commons Attribution License (http://creativecommons.org/licenses/by/4.0/) that allows others to share the work with an acknowledgement of the work's authorship and initial publication in this journal.
Authors are able to enter into separate, additional contractual arrangements for the non-exclusive distribution of the journal's published version of the work (e.g., post it to an institutional repository or publish it in a book), with an acknowledgement of its initial publication in this journal.
Authors are permitted and encouraged to post their work online (e.g., in institutional repositories or on their website) prior to and during the submission process, as it can lead to productive exchanges, as well as earlier and greater citation of published work (See The Effect of Open Access, http://opcit.eprints.org/oacitation-biblio.html).