Pematahan proses dormansi benih tanaman centro (Centrosema Pubescens) dengan penggunaan PEG (Polyeth-Ylene Glycol) 6000
Keywords:
Biji Centrosema pubescens, konsentrasi larutan, PEG (Polietilen Glikol 6000), lama perendaman.
Abstract
Percobaan untuk mengetahui pengaruh konsentrasi larutan PEG 6000 dan lama perendaman terhadap perkecambahan biji Centrosema pubescens dilakukan dengan Rancangan Acak Lengkap Faktorial. Perlakuan pertama adalah konsentrasi larutan polietilen glikol 6000 (0, 3, 6 dan 9%) dan yang kedua adalah lama perendaman (3, 6 dan 9 jam). Data dianalisis menggunakan analisis varian dan untuk pengujian selanjutnya ditentukan dengan uji jarak berganda duncan. Peningkatan konsentrasi larutan PEG hingga 6% meningkatkan laju perkecambahan menjadi 88,44%, laju pertumbuhan serempak menjadi 84,44%, panjang kecambah menjadi 13,00 cm, panjang akar menjadi 6,83 cm dan bobot segar menjadi 6,83 g, kemudian menurun. Sedangkan penambahan waktu perendaman dalam larutan PEG hingga 6 jam meningkatkan daya perkecambahan menjadi 82,00%, laju pertumbuhan serempak menjadi 77,33%, panjang kecambah 12,60 cm, panjang akar hingga 4,00 cm dan berat segar menjadi 6,45 g, kemudian menurun.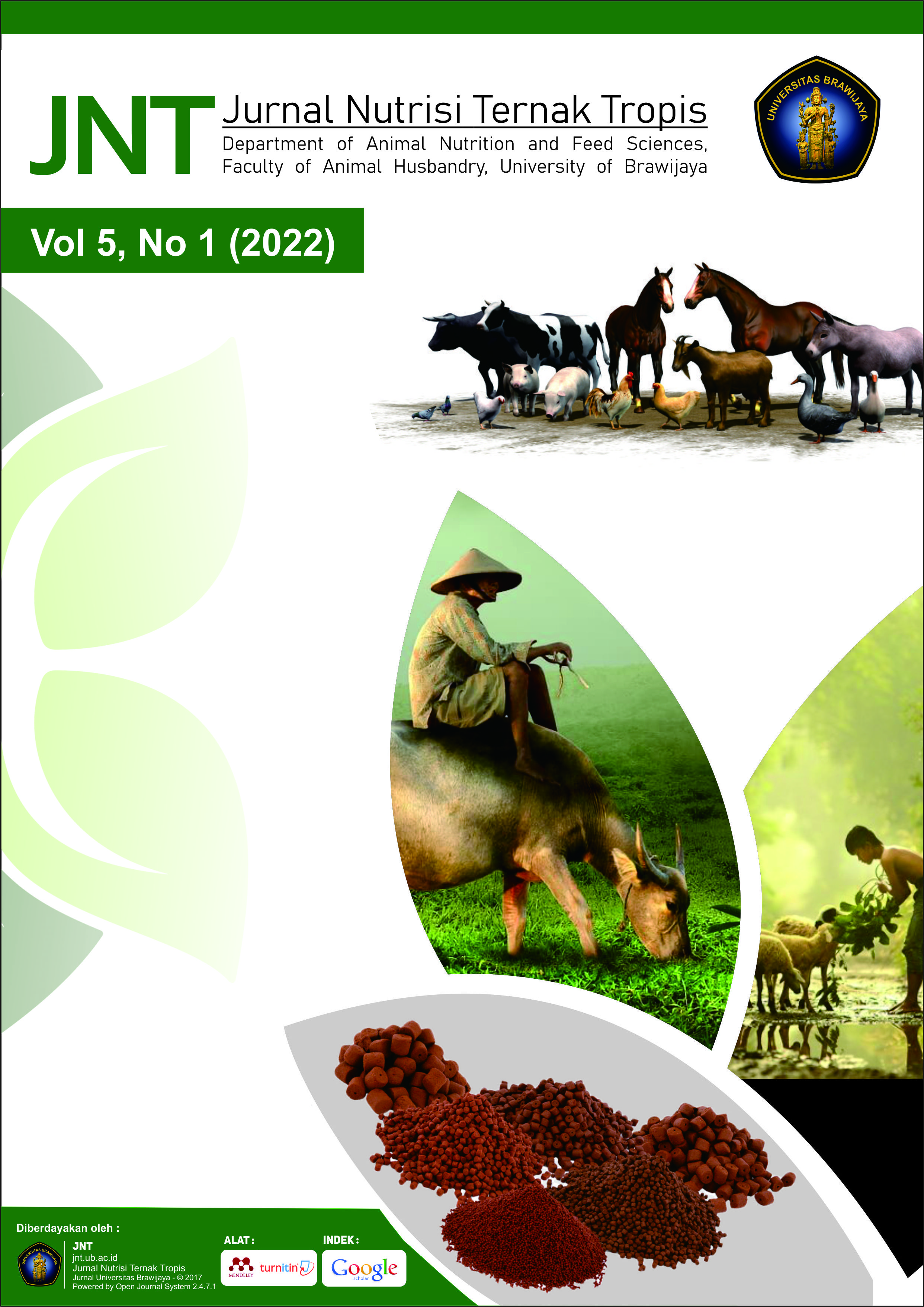 Downloads
License
Authors who publish with this journal agree to the following terms:
Authors retain copyright and grant the journal right of first publication with the work simultaneously licensed under a Creative Commons Attribution License (http://creativecommons.org/licenses/by/4.0/) that allows others to share the work with an acknowledgement of the work's authorship and initial publication in this journal.
Authors are able to enter into separate, additional contractual arrangements for the non-exclusive distribution of the journal's published version of the work (e.g., post it to an institutional repository or publish it in a book), with an acknowledgement of its initial publication in this journal.
Authors are permitted and encouraged to post their work online (e.g., in institutional repositories or on their website) prior to and during the submission process, as it can lead to productive exchanges, as well as earlier and greater citation of published work (See The Effect of Open Access, http://opcit.eprints.org/oacitation-biblio.html).