Nilai Kecernaan Bk dan Bo Tepung Gaplek dari Berbagai Jenis Tanaman Singkong (Manihot utilissima) Secara in Vitro
Abstract
Penelitian ini bertujuan untuk mengevaluasi nilai kecernaan BK dan BO tepung gaplek dari berbagai jenis tanaman singkong (Manihot utilissima) serta mendapatkan informasi tentang tepung gaplek dari jenis tanaman singkong apa yang paling baik untuk diberikan pada ternak ruminansia. Materi yang digunakan dalam penelitian ini adalah tepung gaplek dari berbagai jenis tanaman singkong, cairan rumen dari sapi Peranakan Friesian Holstein (PFH) betina berfistula, serta alat dan bahan kimia untuk mengukur nilai dari kecernaan BK dan BO secara in vitro. Metode dalam penelitian ini menggunakan Rancangan Acak Kelompok (RAK) dengan 5 perlakuan dan 3 kelompok berdasarkan perbedaan waktu pengambilan cairan rumen. Perlakuan terdiri dari P1: Tepung Gaplek 100% jenis singkong Gatot Kaca, P2: Tepung Gaplek 100% jenis ketela kuning, P3: Tepung Gaplek 100% jenis singkong Manalagi, P4: Tepung Gaplek 100% jenis singkong Srintil, P5: tepung Gaplek 100 % jenis singkong Ketan. Hasil penelitian tersebut dianalisis menggunakan analisis ragam, apabila hasil uji menunjukkan adanya perbedaan maka dilakukan uji lanjutan menggunakan Uji Jarak Berganda Duncan (DMRT). Hasil analisis menunjukkan bahwa setiap jenis singkong mempunyai kandungan nutrien yang tidak berbeda jauh, sehingga menyebabkan perlakuan tidak memberikan perbedaan yang nyata (P>0,05) terhadap nilai dari kecernaan bahan organik (KcBO) dan kecernaan bahan kering (KcBK) secara in vitro. Perlakuan terbaik terdapat pada P2 yaitu jenis singkong Kuning dengan hasil yang menunjukkan nilai tertinggi pada kecernaan bahan kering (KcBK) yaitu 93,78% dan kecernaan  bahan organik (KcBO) yaitu 95,83%.
References
Anggorodi, R. (1994). Ilmu Makanan Ternak Umum (5th ed.). Jakarta: PT. Gramedia Pustaka Utama.
Gustiar, F., Suwignyo, R. A., Suheryanto, & Munandar. (2014). Reduksi gas metan (CH4) dengan meningkatan komposisi konsentrat dalam pakan ternak sapi. Jurnal Peternakan Sriwijaya, 3(1). https://doi.org/10.33230/JPS.3.1.2014.1728
Hartutik. (2012). Metode Analisis Mutu Pakan. Malang: UB Press.
Jayanegara, A., Sofyan, A., Makkar, H. P., & Becker, K. (2009). Kinetika produksi gas, kecernaan bahan organik dan produksi gas metana in vitro pada hay dan jerami yang disuplementasi hijauan mengandung tanin. Media Peternakan, 32(2), 120–129.
Lolit. (2004). Pengembangan Usaha Sapi Potong. Lokakarya Nasional Sapi Potong.
McDonald, P., Edward, R., & Greenhalgh, J. F. (1988). Animal Nutrition. (L. J. Willey & Son, Eds.). New York.
Setiyaningsih, K. D., Christiyanto, M., & Sutarno, S. (2012). Kecernaan bahan kering dan bahan organik secara in vitro hijauan desmodium cinereum pada berbagai dosis pupuk organik cair dan jarak tanam. Animal Agriculture Journal, 1(2), 51–63.
Soebiyanto, & Kusoemo, T. A. (1993). HFS dan Industri Ubi Kayu Lainny. Jakarta: PT Gramedia Pustaka Utama.
Suprapto, H., Suhartati, F., & Widiyastuti, T. (2014). Kecernaan serat kasar dan lemak kasar complete feed limbah rami dengan sumber protein berbeda pada kambing pernakan etawa lepas sapih. Jurnal Ilmiah Peternakan , 1(3), 938–946.
Tillman, A., Hartadi, H., Reksohadiprodjo, S., Prawirokusumo, S., & Lebdosoekjo, S. (1998). Ilmu Makanan Ternak Dasar. Yogyakarta: Gadjah Mada University Press.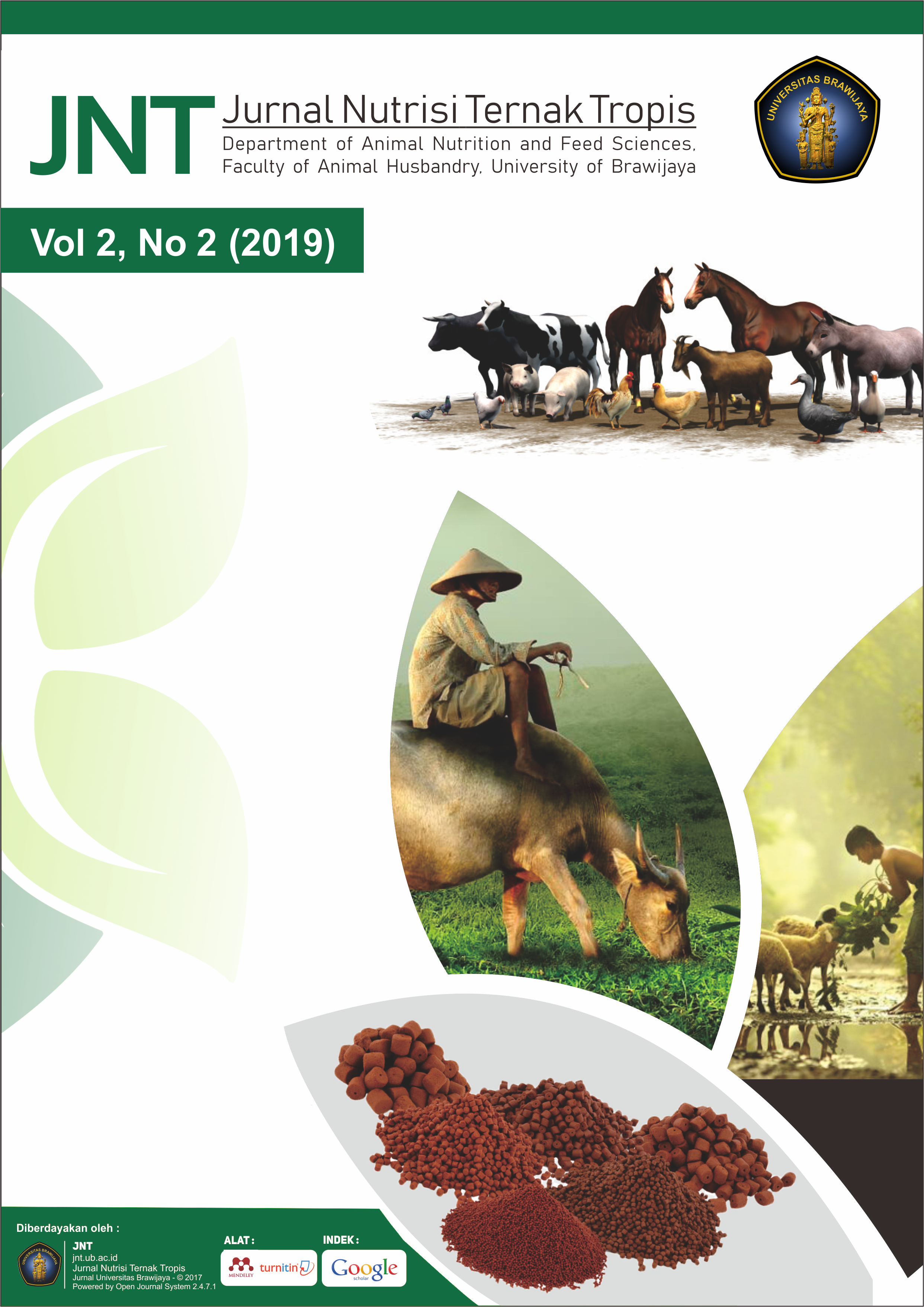 Downloads
License
Authors who publish with this journal agree to the following terms:
Authors retain copyright and grant the journal right of first publication with the work simultaneously licensed under a Creative Commons Attribution License (http://creativecommons.org/licenses/by/4.0/) that allows others to share the work with an acknowledgement of the work's authorship and initial publication in this journal.
Authors are able to enter into separate, additional contractual arrangements for the non-exclusive distribution of the journal's published version of the work (e.g., post it to an institutional repository or publish it in a book), with an acknowledgement of its initial publication in this journal.
Authors are permitted and encouraged to post their work online (e.g., in institutional repositories or on their website) prior to and during the submission process, as it can lead to productive exchanges, as well as earlier and greater citation of published work (See The Effect of Open Access, http://opcit.eprints.org/oacitation-biblio.html).