Study Kasus Total Produksi Pucuk Tebu (Saccharum officinarum l) Sebagai Pakan Ternak di Kabupaten Malang
Keywords:
Bahan Kering, bahan organik, produksi pucuk tebu, protein kasar
Abstract
Riset dilakukan untuk mengetahui produktivitas limbah pucuk tebu di lahan irigasi dan lahan non irigasi diukur dengan beberapa parameter. Survei lapangan dan observasi laboratorium dilakukan untuk pengambilan data. Data yang diperoleh dianalisis menggunakan uji T tidak berpasangan. Hasil penelitian menunjukkan bahwa lahan sawah irigasi dan lahan sawah tadah hujan memiliki perbedaan yang sangat nyata (P <0,01) pada panjang pucuk tebu, jumlah daun, berat pucuk tebu, pada limbah pucuk tebu. Berbeda nyata (P<0,05) pada produksi bahan kering, bahan organik, dan protein kasar. Perbedaan unsur hara serta ketersediaan air pada lahan sawah irigasi dan lahan sawah tadah hujan menyebabkan perbedaan produktivitas serta nilai nutrisi pucuk tebu. Perbedaan dilahan sawah irigasi dan lahan sawah tadah hujan disebabkan tanaman tebu di lahan sawah irigasi lebih tercukupi kebutuhan unsur hara serta pertumbuhan yang normal daripada tanaman tebu yang berada dilahan sawah tadah hujan.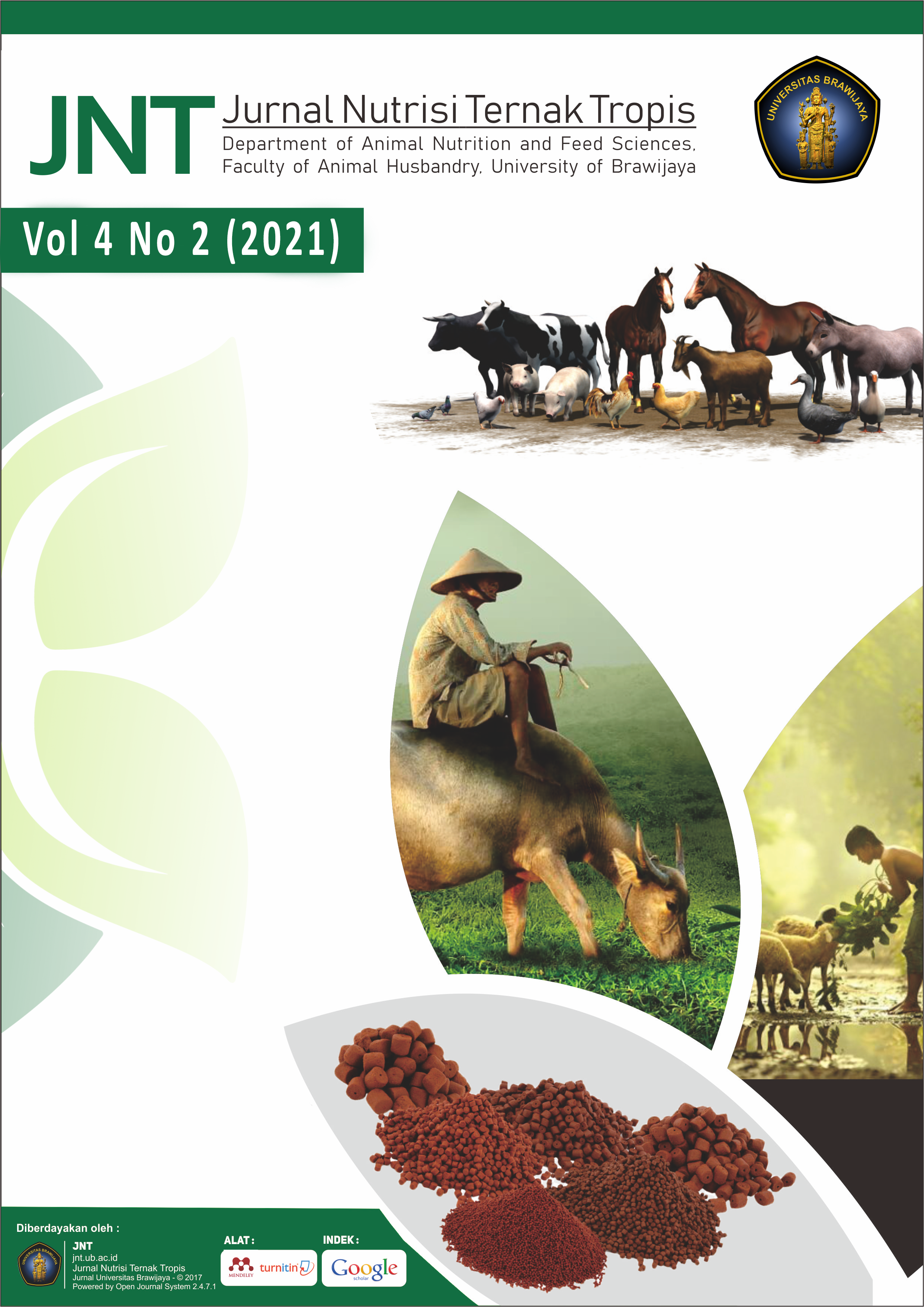 Downloads
License
Authors who publish with this journal agree to the following terms:
Authors retain copyright and grant the journal right of first publication with the work simultaneously licensed under a Creative Commons Attribution License (http://creativecommons.org/licenses/by/4.0/) that allows others to share the work with an acknowledgement of the work's authorship and initial publication in this journal.
Authors are able to enter into separate, additional contractual arrangements for the non-exclusive distribution of the journal's published version of the work (e.g., post it to an institutional repository or publish it in a book), with an acknowledgement of its initial publication in this journal.
Authors are permitted and encouraged to post their work online (e.g., in institutional repositories or on their website) prior to and during the submission process, as it can lead to productive exchanges, as well as earlier and greater citation of published work (See The Effect of Open Access, http://opcit.eprints.org/oacitation-biblio.html).